2004-11, Scott 3363-5 Sima Guang Breaking the Vat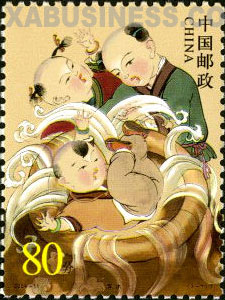 (3-1), Fallen into Water, 80 fen, 30*40 mm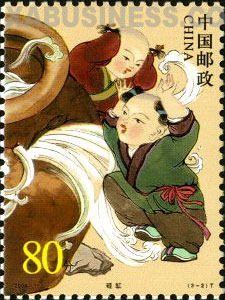 (3-2), Breaking the Vat, 80 fen, 30*40 mm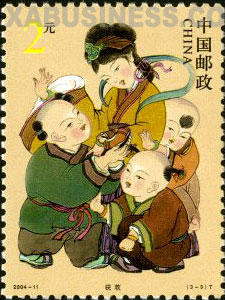 (3-3), Rescued, 200 fen, 30*40 mm
Technical details
Scott No: 3363-5
Serial number: 2004-11
Values in set: 3
Denomination: 360 fen
Date of issue: June 1, 2004
Designer: Li Wei
Size of stamps: 30*40 mm
Perforation: 12
Sheet composition:
20 for Sheet I,
6 for Sheet II
Printing process: gravure
Printer: Beijing Postage Stamp Printing House
Background
Sima Guang (1019 --- 1086 AD) was a Prime Minister and outstanding historian of the Northern Song Dynasty. He devoted his life to writing the classical chronicle "Historical Events Retold as a Mirror for Government" (Zi Zhi Tong Jian). As a young boy, Sima Guang was a diligent and curious student, showing an outstanding intelligence. When he was six or seven years old, once he was playing with his friends in the courtyard, when a child fell into a large vat full of water. Frightened, the other children ran away. But Sima Guang suddenly hit on an idea. He picked up a stone and broke the vat with it. The water split out, and the child was rescued. Shortly afterwards his deed was drawn into pictures and widely told. Till today this story has been known to every household in China, inspiring countless children's minds and courage.
Share:

Price List
Item location: China
Ships to: Worldwide
*Shipping (via registered air mail) is based on subtotal of order. See detials below.
| | |
| --- | --- |
| Order Subtotal | S & H |
| $0.01---$15.00 | US $5.00 |
| $15.01---$50.00 | US $6.00 |
| $50.01---$100.00 | US $7.00 |
| $100.01---$180.00 | US $8.00 |
| $180.01---over | US $9.00 |
* 1) for special items shipping and handling cost may be included. 2) Other fast shipping is available.
To special order, please
let us know
what you are looking for. We will help you to meet your unique interests.