2004-7, Scott 3353 The Nanxi River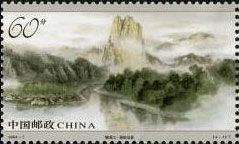 (4-1), Solitary Sail in the Distance, 60 fen, 50*30 mm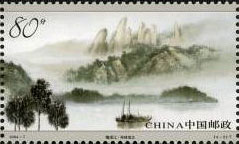 (4-2), Grotesque,Towering Peaks, 80 fen, 50*30 mm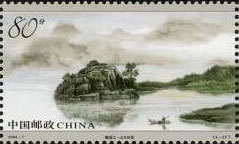 (4-3), Exquisite Landscape of Mountain and River, 80 fen, 50*30 mm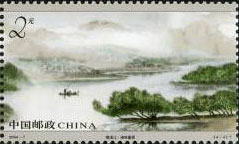 (4-4), Verdant Riverside Woods, 200 fen, 50*30 mm
Technical details
Scott No: 3353
Serial number: 2004-7
Values in set: 4
Denomination: 4.20 yuan
Date of issue: April 24, 2004
Designer: Li Defu
Size of stamps: 50*30 mm
Perforation: 13*12.5
Sheet composition: 16(se-tenant)
Printing process: gravure
Printer: Beijing Postage Stamp Printing House
Background
The Nanxi River, the largest branch at the lower reaches of the Oujiang River, is located in Yongjia, Zhejiang province. It got its name from the nanmu trees growing along the river in ancient times. The wide river slowly meanders its way for more than 100 kilometers, flanked by undulating mountains, riverside woods, grotesque rocks and age-old villages on both sides. The water is so clear that you can even see the pebbles on the riverbed and fish swimming. The quiet, graceful reflections on the river make it as beautiful as a scroll of painting. At sunset, the river rings with fishermen's songs and is decorated with lights from fishing boats. The enchanting scenes on the river have inspired countless man to write in its praise since ancient times.
Share:

Price List
Item location: China
Ships to: Worldwide
*Shipping (via registered air mail) is based on subtotal of order. See detials below.
| | |
| --- | --- |
| Order Subtotal | S & H |
| $0.01---$15.00 | US $5.00 |
| $15.01---$50.00 | US $6.00 |
| $50.01---$100.00 | US $7.00 |
| $100.01---$180.00 | US $8.00 |
| $180.01---over | US $9.00 |
* 1) for special items shipping and handling cost may be included. 2) Other fast shipping is available.
To special order, please
let us know
what you are looking for. We will help you to meet your unique interests.