2004-2, Scott 3339-42 Taohuawu Woodprint New Year Pictures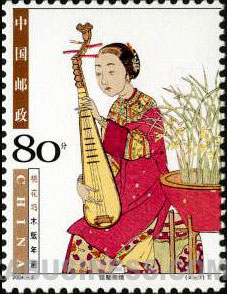 (4-1), Feelings of Pipa, 80 fen, 30*40 mm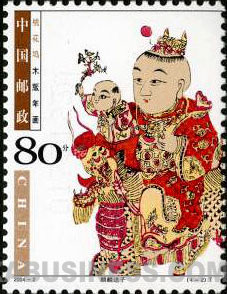 (4-2), Kylin Bringing a Son, 80 fen, 30*40 mm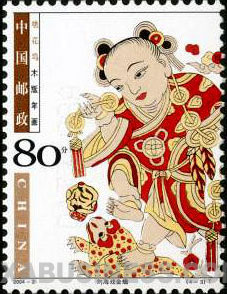 (4-3), Liu Hai Playing with the Golden Toad, 80 fen, 30*40 mm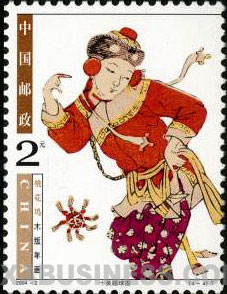 (4-4), Beauties Playing Football, 200 fen, 30*40 mm
Technical details
Scott No: 3339-42
Serial number: 2004-2
Values in set: 4
Denomination: 4.40 yuan
Selling Price of miniature sheet: 6 yuan
Date of issue: 14th January 2004
Designer: Wang Huming
Size of stamps: 30*40 mm
Perforation: 12
Sheet composition: 20 for Sheet I; 8 for Sheet II
Size of M/S: 150*90 mm
Printing process: Offset
Printer: Beijing Postage Stamp Printing House
Background
The Taohuawu Woodprint New Year Picture first appeared in the late Ming Dynasty and became popular during the reign of emperors Yongzheng and Qianlong of the Qing Dynasty. It is one of the most widespread folk New Year picture school in southern China, featuring woodcut process printing and coloring. In its early stage, the pictures of ladies, landscapes and flowers usually adopted the traditional composition and were of a graceful style. Pictures of the style of copperplate engraving emerged in the middle period of the Qing Dynasty under European influence. Later on the subject matters tented to be close to people's daily life and work. Most of the pictures express wishes for good fortune, or show opera stories, current events and customs, which the folks are fond of. The pictures are decorative, and popular for their techniques of exaggeration, vivid and bright colors, rich and lively contents.
Share:

Price List
Item location: China
Ships to: Worldwide
*Shipping (via registered air mail) is based on subtotal of order. See detials below.
| | |
| --- | --- |
| Order Subtotal | S & H |
| $0.01---$15.00 | US $5.00 |
| $15.01---$50.00 | US $6.00 |
| $50.01---$100.00 | US $7.00 |
| $100.01---$180.00 | US $8.00 |
| $180.01---over | US $9.00 |
* 1) for special items shipping and handling cost may be included. 2) Other fast shipping is available.
To special order, please
let us know
what you are looking for. We will help you to meet your unique interests.