2004-1, Scott 3338 Year of Monkey ( 2004 Jiashen Year)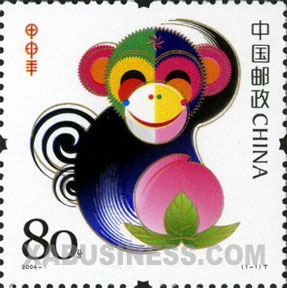 (1-1), Jiashen Year, 80 fen, 36*36 mm
Technical details
Scott No: 3338
Serial number: 2004-1
Values in set: 1
Denomination: 80 fen
Selling Price of the booklet: 8 yuan
Date of issue: 5th January 2004
Designer: Chen Shaohua
Size of stamps: 36*36 mm
Perforation: 13
Sheet composition:
24 for Sheet I; 6 for Sheet II
Printing process: Photogravure
Printer: Beijing Postage Stamp Printing House
Background
The year of 2004, according to the Chinese lunar calendar, is the Year of Jiashen, or the Year of Monkey. The monkey, a close relative of the mankind, has no direct connection with human life in the way that domestic animals do, but has nonetheless caught people's special attention with their alertness, nimbleness, and intelligence. In the Chinese mythology, the monkey was the ancestor of mankind, and had the mystical power of communicating with deities. For this reason, the figure of monkey was often carved in masts of ferries to ward off evil spirits. Sun Wukong, the fictional Monkey king, has been well known across the country for centuries. The Chinese character "monkey" pronounces the same as the character for "marquis", so "monkey" is regarded as auspicious, and there are a lot of idioms and allusions about monkeys.
Share:

Price List
Item location: China
Ships to: Worldwide
*Shipping (via registered air mail) is based on subtotal of order. See detials below.
| | |
| --- | --- |
| Order Subtotal | S & H |
| $0.01---$15.00 | US $5.00 |
| $15.01---$50.00 | US $6.00 |
| $50.01---$100.00 | US $7.00 |
| $100.01---$180.00 | US $8.00 |
| $180.01---over | US $9.00 |
* 1) for special items shipping and handling cost may be included. 2) Other fast shipping is available.
To special order, please
let us know
what you are looking for. We will help you to meet your unique interests.