1999-20, Scott 2992-99 Change of Centuries:Entering a New Millennium-Review of the 20th Century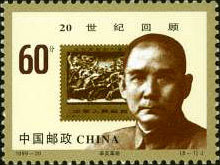 (8-1), Revolution of 1911, 60 fen, 40*30mm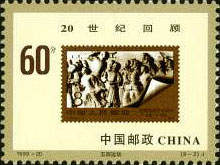 (8-2), May 4th Movement, 60 fen, 40*30mm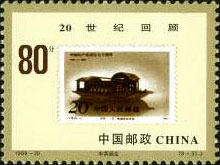 (8-3), The Chinese Communist Party, 80 fen, 40*30mm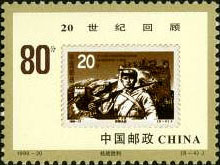 (8-4), War of Resistance against Japan, 80 fen, 40*30mm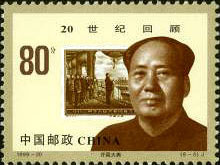 (8-5), Founding of New China, 80 fen, 40*30mm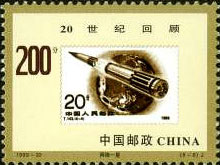 (8-6), Bombs and Satellites, 200 fen, 40*30mm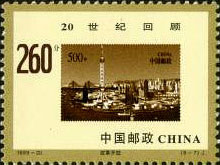 (8-7), Reform and Opening Up, 260 fen, 40*30mm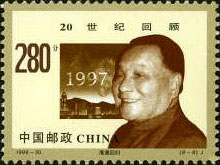 (8-8), Hong Kong and Macau Return to the Motherland, 260 fen, 40*30mm
Technical details
Scott No: 2992-99
Serial number: 1999-20
Values in set: 8
Denomination: 1100 fen
Date of issue: 31 December 1999
Designers: Huang Li and Guo Chenghui
Size: 40*30mm
Perforation: 12
Sheet composition: 50
Printing process : offset
Printer: Henan Posts and Telecommunications Printing Works
Background
The 20th century was one full of great changes for China. In this century, China overthrew feudalism and imperialism, and pursued democracy and science. The Chinese Communist Party created a new era in Chinese history and achieved a great victory in the War of Resistance Against Japan, as part of the worldwide anti-fascist struggle. Since the founding of socialist New China in 1949, the country has increased its strength and achieved rapid progress in science and technology, and in the more recent reform and opening up. The smooth return to the motherland of Hong Kong and Macao has enabled the Chinese people of several generations to realize their aspirations. As the first set of a series of stamps issued to mark the coming of the 21st century, these stamps vividly demonstrate brilliant 100 years in the history of the Chinese nation.
Share:

Price List
Item location: China
Ships to: Worldwide
*Shipping (via registered air mail) is based on subtotal of order. See detials below.
| | |
| --- | --- |
| Order Subtotal | S & H |
| $0.01---$15.00 | US $4.00 |
| $15.01---$60.00 | US $5.00 |
| $60.01---$100.00 | US $6.00 |
| $100.01---over | US $7.00 |
* 1) for special items shipping and handling cost may be included. 2) Other fast shipping is available.
To special order, please
let us know
what you are looking for. We will help you to meet your unique interests.