1999-4, Scott 2956-57 '99 International Horticultural Exhibition, Kunming, China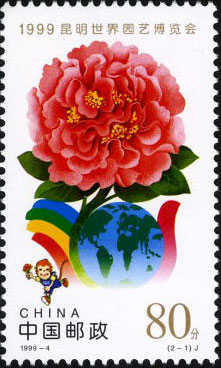 (2-1), Protecting Nature, 80 fen, 30*50mm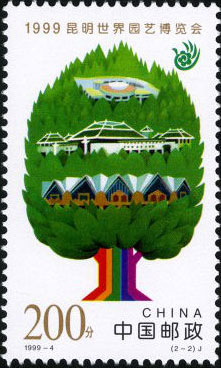 (2-2), Exhibition Halls of the Fair, 200 fen, 30*50mm
Technical details
Scott No: 2956-57
Serial number: 1999-4
Values in set: 2
Date of issue: May 1, 1999
Designers: Liu Jude
Size: 30*50mm
Perforation: 12
Sheet composition: 40
Printing process: offset
Background
The State Postal Bureau decided to issue a set of two stamps entitled "1999 Kunming World Horticulture Fair" on May 1,1999. The stamps' total face value was 280 fen. The stamps are respectively titled "Protecting Nature" and "Exhibitions Halls of the Fair".
The 1999 Kunming World Horticulture Fair was opened on May 1, 1999 in the "spring city" - Kunming. This was the first world's Class - A1 professional fair sponsored by the Chinese Government as well as a large - scale worldwide gala at the end of this century. More than 90 countries and organizations participated in the fair, the number being the largest among all the fairs. A rich variety of horticulture exhibits displayed the long gardening traditions of various countries. The five exhibition halls and six exhibition areas showed thousands of rare flowers and exotic trees and garden architecture combining traditional and modern civilizations. Here, visitors blended themselves with the colourful precious, rare, endangered and uncommon species, reflecting the theme of the fairí¬harmony between man and nature.
Share:

Price List
Item location: China
Ships to: Worldwide
*Shipping (via registered air mail) is based on subtotal of order. See detials below.
| | |
| --- | --- |
| Order Subtotal | S & H |
| $0.01---$15.00 | US $5.00 |
| $15.01---$50.00 | US $6.00 |
| $50.01---$100.00 | US $7.00 |
| $100.01---$180.00 | US $8.00 |
| $180.01---over | US $9.00 |
* 1) for special items shipping and handling cost may be included. 2) Other fast shipping is available.
To special order, please
let us know
what you are looking for. We will help you to meet your unique interests.