1999-5, Scott 2958-59 Red Deer (jointly issued by China and Russia)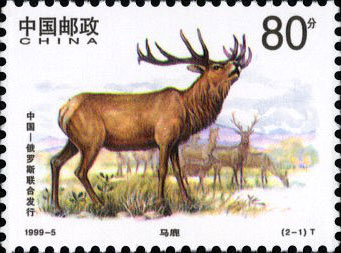 (2-1), Red Deer, 80 fen, 40*30mm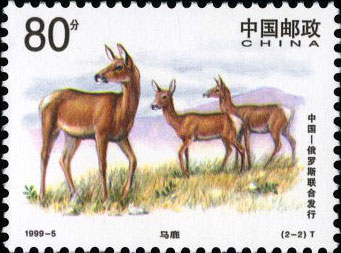 (2-2), Red Deer, 80 fen, 40*30mm
Technical details
Scott No: 2958-59
Serial number: 1999-5
Values in set: 2
Date of issue: May 18, 1999
Designers: Yin Huili
Size: 40*30mm
Perforation: 11*11.5
Sheet composition: 16
Printing process: gravure
Background
The State Postal Bureau decided to issued a set of two special stamps entitles "Red Deer" on May 18, 1999. The total face value is 160 fen. The stamps are both entitled "Red Deer".
Red deer, also called wapiti, are large Cervidae animals living among the forests in the mountain or prairies in Europe, Asia, North Africa and North America. In China, they live in the northeast, Sichuan, Tibet and Inner Mongolia. They are strong, vigorous and with a gentle nature. The male deer have a pair of beautiful and hard antlers, which are of high economic value, and have attracted the fancy of the public. Red deer are China's Class II wild animals under state's key protection. They are also listed as protected animals worldwide. The stamps depicted the red deer living in the territories of China and Russia.
Share:

Price List
Item location: China
Ships to: Worldwide
*Shipping (via registered air mail) is based on subtotal of order. See detials below.
| | |
| --- | --- |
| Order Subtotal | S & H |
| $0.01---$15.00 | US $5.00 |
| $15.01---$50.00 | US $6.00 |
| $50.01---$100.00 | US $7.00 |
| $100.01---$180.00 | US $8.00 |
| $180.01---over | US $9.00 |
* 1) for special items shipping and handling cost may be included. 2) Other fast shipping is available.
To special order, please
let us know
what you are looking for. We will help you to meet your unique interests.