1999-2, Scott 2942-47 Stone Carvings of Han Dynasty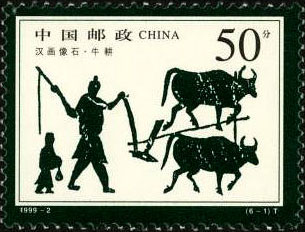 (6-1), Cow Ploughing, 50 fen, 40*30mm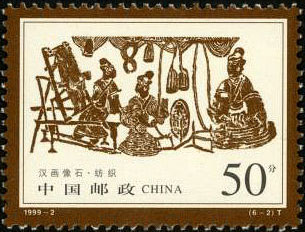 (6-2), Weaving, 50 fen, 40*30mm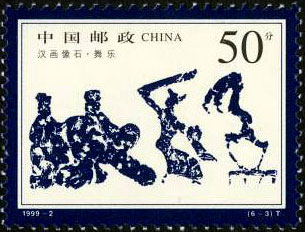 (6-3), Dancing, 50 fen, 40*30mm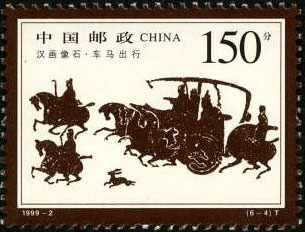 (6-4), Carriage on the Way, 150 fen, 40*30mm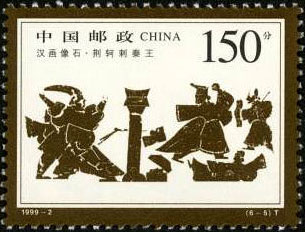 (6-5), Jing Ke Attempted to Assasinate Emperor Qinshihuang, 150 fen, 40*30mm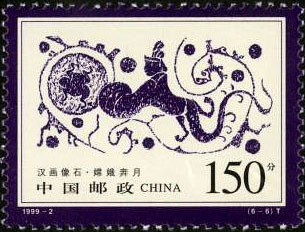 (6-6), Goddess Chang'e Flew to the Moon, 150 fen, 40*30mm
Technical details
Scott No: 2942-47
Serial number: 1999-2
Values in set: 6
Date of issue: March 16, 1999
Designers: Hu Zhenyuan
Size: 40*30mm
Perforation: 12
Sheet composition: 50
Printing process: offset
Background
The State Postal Bureau issued a set of six stamps entitles "Stone Carvings of Han Dynasty" on March 16, 1999. With a total face value of 600 fen, the stamps were respectively titled: "Cow Ploughing", "Weaving", "Dancing", "Carriage on the Way", "Jin Ke Attempted to Assassinate Emperor Qinshihuang" and "Goddess Chang'e Flew to the Moon".
Stone Carvings of Han Dynasty were the decorative paintings for clan halls and tombs in China's Han Dynasty. The carvings were first seen in the Western Han Dynasty and booming in the Eastern Han Dynasty and booming in the Eastern Han Dynasty. They were mostly found in Shandong, Henan, Jiangsu and Sichuan provinces which were economically and culturally and culturally developed. The carvings featured historical figures, legends production and social life at the time. Characterized by its bold and rough technique and vivid and simple modelling, these works not only truly recorded the various aspects of Han society but also were of very high artistic value, which yielded profound influence to the sculpture art later.
Share:

Price List
Item location: China
Ships to: Worldwide
*Shipping (via registered air mail) is based on subtotal of order. See detials below.
| | |
| --- | --- |
| Order Subtotal | S & H |
| $0.01---$15.00 | US $4.00 |
| $15.01---$60.00 | US $5.00 |
| $60.01---$100.00 | US $6.00 |
| $100.01---over | US $7.00 |
* 1) for special items shipping and handling cost may be included. 2) Other fast shipping is available.
To special order, please
let us know
what you are looking for. We will help you to meet your unique interests.