1999-3, Scott 2948-51 Chinese Ceramics - Porcelain from the Jun Kiln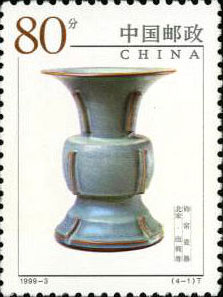 (4-1), Halberd-shaped Wine Vessel from Northern Song, 80 fen, 30*40mm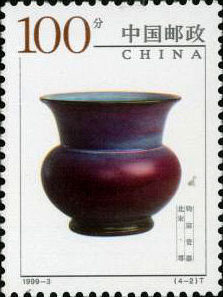 (4-2), Wine Vessel from Northern Song, 100 fen, 30*40mm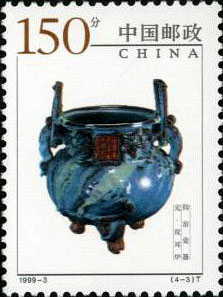 (4-3), Dual-Handled Burner from Yuan, 150 fen, 30*40mm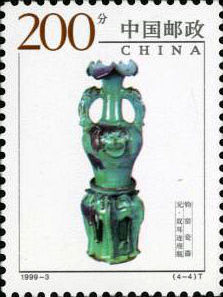 (4-4), Dual-Handled Vase with a Base from Yuan, 200 fen, 30*40mm
Technical details
Scott No: 2948-51
Serial number: 1999-3
Values in set: 4
Date of issue: April 8, 1999
Designers: Wang Huming
Size: 30*40mm
Perforation: 11.5
Sheet composition: 40
Printing process: gravure
Background
On April 8,1999, the State Postal Bureau issued a four - piece stamp set titled "Chinese Ceramics - Porcelain from the Jun Kiln". Their total face value is 530 fen. The titles of the stamps are "Halberd - Shaped Cup from Horthern Song", "Cup from Northern Song", "Dual - Handled Stove from Yuan" and "Dual-Handled Vase with a Base from Yuan".
The Jun Kiln in Henan Province was one of the five famous kilns of the Song Dynasty and produced north China blue porcelain. The porcelain is famous for its unique shapes and colors. Its glaze contained metal and it changed as the temperature rose, turning blue, green and white or even rose or crabapple red. The porcelain from the Jun Kiln is widely appreciated.
Share:

Price List
Item location: China
Ships to: Worldwide
*Shipping (via registered air mail) is based on subtotal of order. See detials below.
| | |
| --- | --- |
| Order Subtotal | S & H |
| $0.01---$15.00 | US $5.00 |
| $15.01---$50.00 | US $6.00 |
| $50.01---$100.00 | US $7.00 |
| $100.01---$180.00 | US $8.00 |
| $180.01---over | US $9.00 |
* 1) for special items shipping and handling cost may be included. 2) Other fast shipping is available.
To special order, please
let us know
what you are looking for. We will help you to meet your unique interests.