2004-13, Scott 3366-9 Ancient Villages in Southern Anhui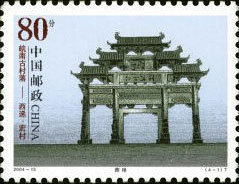 (4-1), Archway, 80 fen, 40*30 mm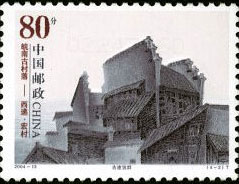 (4-2), Ancient Buildings, 80 fen, 40*30 mm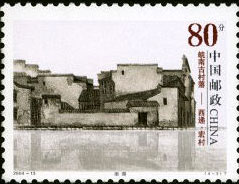 (4-3), South Lake, 80 fen, 40*30 mm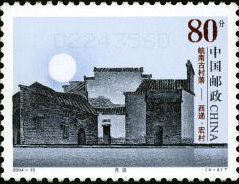 (4-4), Moon Pond, 80 fen, 40*30 mm
Technical details
Scott No: 3366-9
Serial number: 2004-13
Values in set: 4
Denomination: 320 fen
Date of issue: June 25, 2004
Designer: Ying Tianqi
Size of stamps: 40*30 mm
Perforation: 11*11.5
Sheet composition: 8
Printing process: gravure-engraving
Printer: Beijing Postage Stamp Printing House
Background
There are around 100 ancient villages scattered in the beautiful landscape of green mountains and racing streams in southern Anhui Province. These villages embrace many elegant ancient houses with exquisite carvings. Yixian County alone has about 3,600 of them, which is the most in southern Anhui. The Xidi and Hongcun villages have been inscribed on the World Heritage List by the UNESCO In the Xidi Village surrounded by hills, there are more than 120 ancient houses, picturesque streets and a stream running by. The Ming-dynasty Virtue Arch devoted to Hu Wenguang standing at the entrance of the village is the landmark of the village. The Hongcun Village, first built in the Song Dynasty, is laid out in the shape of cattle. With over 130 ancient houses, the village naturally blends into the exquisite landscape, known as a "village in traditional Chinese painting".
Share:

Price List
Item location: China
Ships to: Worldwide
*Shipping (via registered air mail) is based on subtotal of order. See detials below.
| | |
| --- | --- |
| Order Subtotal | S & H |
| $0.01---$15.00 | US $5.00 |
| $15.01---$50.00 | US $6.00 |
| $50.01---$100.00 | US $7.00 |
| $100.01---$180.00 | US $8.00 |
| $180.01---over | US $9.00 |
* 1) for special items shipping and handling cost may be included. 2) Other fast shipping is available.
To special order, please
let us know
what you are looking for. We will help you to meet your unique interests.