1999-6, Scott 2960-65 Beauty of Putuo Mountain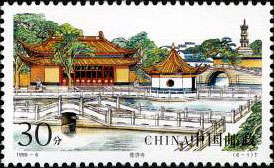 (6-1), Puji Temple, 30 fen, 50*30mm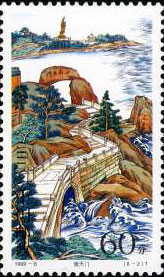 (6-2), Nantian Gate (vertical), 60 fen, 30*50mm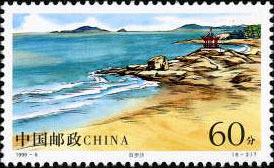 (6-3), 100 Step Sand, 60 fen, 50*30mm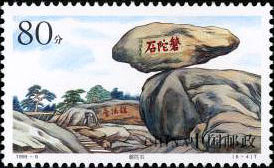 (6-4), Pantuo Rock, 50 fen, 50*30mm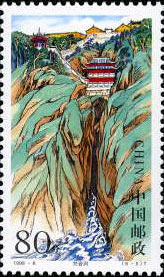 (6-5), Fanyin Cave (vertical), 80 fen, 30*50mm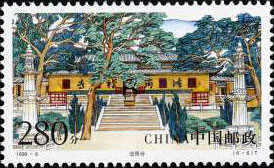 (6-6), Fayu Temple, 280 fen, 50*30mm
Technical details
Scott No: 2960-65
Serial number: 1999-6
Values in set: 6
Date of issue: June 3, 1999
Designers: Fan Yang
Size:
50*30mm for Value 1,3,4,6
30*50mm for Value 2,5
Perforation: 12
Sheet composition: 40
Printing process: offset
Background
On June 3,1999, the State Postal Bureau issued a six-piece set of special stamps under the title of "Beauty of Putuo Mountain ". They have a combined face value of 590 fen. The titles of the stamps are "Puji Temple ", "Nantian Gate ", "100-Step Sand ", "Pantuo Rock ", "Fanyin Cave " and "Fayu Temple".
Putuo Mountain in Lianhuayang to the east of Hangzhou Bay is one of the four well-known Buddhist mountains in China. After the Tang and Song dynasties Buddhism flourished and some marvelous temples were built. Putuo Mountain is famous as a Buddhist stronghold. It has many cultural and historical sites, extraordinary peaks and interesting flora. It has been a tourist and summer resort for a long time.
Share:

Price List
Item location: China
Ships to: Worldwide
*Shipping (via registered air mail) is based on subtotal of order. See detials below.
| | |
| --- | --- |
| Order Subtotal | S & H |
| $0.01---$15.00 | US $4.00 |
| $15.01---$60.00 | US $5.00 |
| $60.01---$100.00 | US $6.00 |
| $100.01---over | US $7.00 |
* 1) for special items shipping and handling cost may be included. 2) Other fast shipping is available.
To special order, please
let us know
what you are looking for. We will help you to meet your unique interests.