1995-24, Scott 2624-27 Sanqing Mountains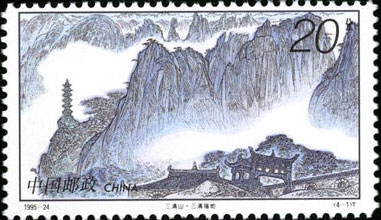 (4-1), Quiet and Good Place, 20 fen, 50*30mm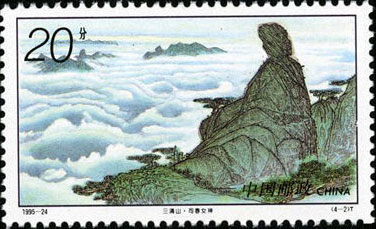 (4-2), Goddess Sichun, 20 fen, 50*30mm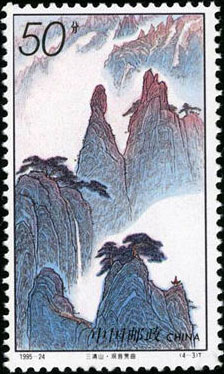 (4-3), Avalokitesvara Listening qu, 50 fen, 50*30mm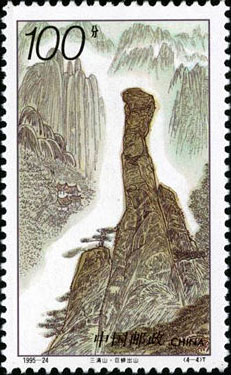 (4-4), Big Boa go out the Cave, 100 fen, 50*30mm
Technical details
Scott No: 2624-27
Serial number: 1995-24
Values in set: 4
Date of issue: November 1, 1995
Designers: Huang Yongyong; Wen Zuwang
Size:
50 * 30 mm for Value 1, 2
30 * 50 mm for Value 3, 4
Perforation: 12
Sheetcomposition: 40
Printing process: offset
Background
Mt. Sanqing, also known as Shaohua Mountain and Yashan Mountain, sits at the juncture of Dexing and Yushan counties, Jiangxi Province. Called "the first mountain in Jiangnan (areas south of the lower reaches of the Yangtze River)", the mountain was once the holy land of Taoism in Jiangnan. According to legend, as early as the Jin dynasty more than 1,600 years ago, the famous Taoist theoretician and pharmaceutist Ge Hong was on Mt. Sanqing to practice Taoism. Today the ruins of Ge Hong's stove for making pills of immortality can be found on the mountain. There are also dozens of cultural relics such as Taoist temples, tombs and stone bridges that were built during the Ming Dynasty (1368-1644).
Mt. Sanqing is situated 1,817 meters above sea level, with its long and narrow body extending from south to north and covering some 56 square kilometers. Among the 286 scenic spots of the mountain, the three peaks of Yujing, Yuxu and Yuhua are like the three gods of Taoism-Yu Qing, Shang Qing and Tai Qing sitting side by side on top of the mountain, hence the name of Mt. Sanqing (three Qings) . The three peaks are the best places for watching sunrise , sometimes things as a mirage.
A natural home of many animals and plants, Mt. Sanqing boasts of a forest coverage of 80%, numerous flowers and plants and rich animal resources. It is a good place for scientific study.
With clouds and waterfalls, the landscape of pleasantly cool Mt. Sanqing is beautiful. The features of many famous mountains can be found in the mountain but it has been almost cut off from the outside world. Even Wu Xiake, the famous traveler in ancient China, only stepped into the edge of the mountain. With the development of the country's tourism industry, Mt. Sanqing is bound to receive more and more domestic and overseas tourists with its colorful scenery.
Share:

Price List
Item location: China
Ships to: Worldwide
*Shipping (via registered air mail) is based on subtotal of order. See detials below.
| | |
| --- | --- |
| Order Subtotal | S & H |
| $0.01---$15.00 | US $5.00 |
| $15.01---$50.00 | US $6.00 |
| $50.01---$100.00 | US $7.00 |
| $100.01---$180.00 | US $8.00 |
| $180.01---over | US $9.00 |
* 1) for special items shipping and handling cost may be included. 2) Other fast shipping is available.
To special order, please
let us know
what you are looking for. We will help you to meet your unique interests.