1995-23, Scott 2628-31 Songshan Mountains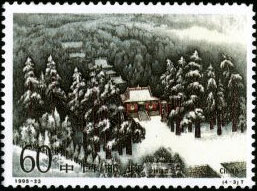 (4-3), A Sunny Day After a Snow in Shaolin, 60 fen, 54*40mm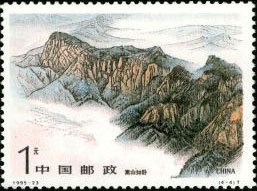 (4-4), Towering Songshan Mount, 100 fen, 54*40mm
Technical details
Scott No: 2628-31
Serial number: 1995-23
Values in set: 4
Date of issue: November 10, 1995
Designers: Yang Wenqing and Li Defu
Engravers: Hu Zhenyuan, Yan Bingwu, Li Qingfa and Jiang Weijie
Size: 54*40mm
Perforation: 11.5
Sheetcomposition: 28
Printing process: gravure- engraving combined
Background
Mt. Songshan that is composed of Taishi Mountain and Shaoshi Mountain is a part of the Funiu Mountains with its main body lying in the northwest of Dengfeng County, Henan Province. It extends about 60 kilometers from east to west. It was called Songgao and Chongshan in the Xia Dynasty (about 21st century-16th century B.C.), Songgao in the Shang Dynasty (about 16th century-11th century B.C.) and Yueshan in the Western Zhou Dynasty (about 11th century-771 B.C.). Songgao was taken as the central Lofty of the Five Sacred Mountains in the Eastern Zhou Dynasty (770-256 B.C.). The mountain was called Mt. Songshan the Central Lofty Mountain after the Five Dynasties (907-960) . The other four sacred mountains are Mt. Taishan in Shandong, Mt. Huashan in Shanxi, Mt. Hengshan in Shanxi and Mt. Hengshan in Hunan . On Mt. Songshan, there are undulating hills and steep peaks. In history the 72 peaks of the mountain were named according to their locations and shapes and the ruins of celebrities, such as the sun, the moon, jade pillar, phoenix, lion and white deer.
Songding, also called Junjifeng, is the highest peak of Mt. Songshan, on which the Yellow River is in sight as a flickering ray to the north and scenic spots and historical sites can be seen scattered in hills around. The most famous places of historical interest include the Songyue Temple Pagoda of the Northern Wei (386-534), the Three Watchtowers in Mt. Songshan of the Later Han (25-220), the observatory of the Yuan Dynasty (1271-1368), and Shaolin Temple, Zhongyue Temple, etc. The are all tourist attractions.
Share:

Price List
Item location: China
Ships to: Worldwide
*Shipping (via registered air mail) is based on subtotal of order. See detials below.
| | |
| --- | --- |
| Order Subtotal | S & H |
| $0.01---$15.00 | US $5.00 |
| $15.01---$50.00 | US $6.00 |
| $50.01---$100.00 | US $7.00 |
| $100.01---$180.00 | US $8.00 |
| $180.01---over | US $9.00 |
* 1) for special items shipping and handling cost may be included. 2) Other fast shipping is available.
To special order, please
let us know
what you are looking for. We will help you to meet your unique interests.