1992-11, Scott 2407-11 Dunhuang Murals (4th series)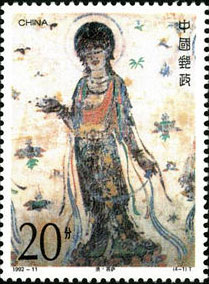 (4-1), Tang Dynasty, Bodhisattva, 20 fen, 40*54mm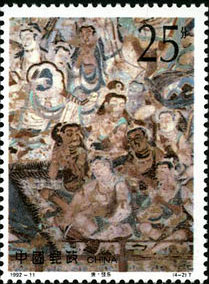 (4-2), Tang Dynasty, Female Dancer and Singer, 25 fen, 40*54mm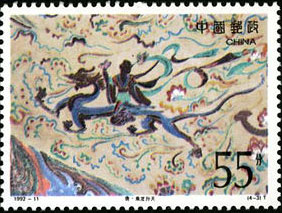 (4-3), Tang Dynasty, Flying Apsaras by Dragon, 55 fen, 54*40mm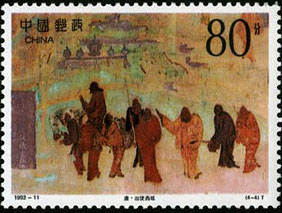 (4-4), Tang Dynasty, Go to the Western Regions as An Envoy, 80 fen, 54*40mm
Technical details
Scott No: 2407-11
Serial number: 1992-11
Values in set: 4
Date of issue: September 15, 1992
Designers: Wu Jiankun, Ren Xu
Size:
40*54mm for Value 1,2
54*40mm for Value 3,4
Perforation: 11
Sheet composition: 28
Printing process: offset
Background
Dunhuang (located at present west to Dunhuang County of Gansu Province) was a vital communication line from China to the Middle Asia and Europe in ancient times. There are a lot of art treasures such as mural paintings and sculptures from 4th century to 14th century left in Mogao Cave (Cave of a Thousand Buddhas). The Dunhuang frescoes are gems of ancient Chinese art and fine embodiments of Buddhist thoughts. The ancient artists presented living situations of various dynasties and beautiful mythologies and legends with their excellent skills and wonderful power of imagination. While describing the myths, they smelted beautiful myths and legends in one furnace, which expressed the great creative spirit of realism and made the works not only treasures of art but also magnificent scenery of history.
Share:

Price List
Item location: China
Ships to: Worldwide
*Shipping (via registered air mail) is based on subtotal of order. See detials below.
| | |
| --- | --- |
| Order Subtotal | S & H |
| $0.01---$15.00 | US $4.00 |
| $15.01---$60.00 | US $5.00 |
| $60.01---$100.00 | US $6.00 |
| $100.01---over | US $7.00 |
* 1) for special items shipping and handling cost may be included. 2) Other fast shipping is available.
To special order, please
let us know
what you are looking for. We will help you to meet your unique interests.