2004-26, Scott 3408 The Festival of Pure Brightness On the River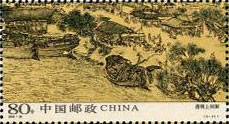 (9-1), The Festival of Pure Brightness on the River, 60 fen, 58*31 mm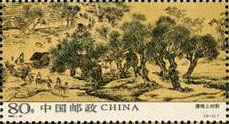 (9-2), The Festival of Pure Brightness on the River, 80 fen, 58*31 mm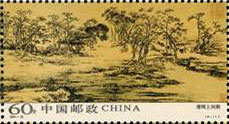 (9-3), The Festival of Pure Brightness on the River, 80 fen, 58*31 mm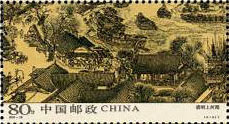 (9-4), The Festival of Pure Brightness on the River, 80 fen, 58*31 mm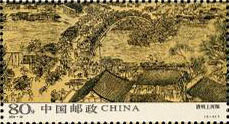 (9-5), The Festival of Pure Brightness on the River, 80 fen, 58*31 mm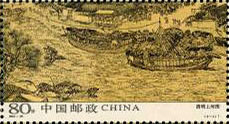 (9-6), The Festival of Pure Brightness on the River, 80 fen, 58*31 mm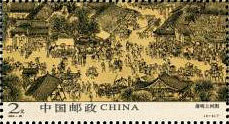 (9-7), The Festival of Pure Brightness on the River, 80 fen, 58*31 mm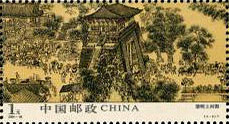 (9-8), The Festival of Pure Brightness on the River, 100 fen, 58*31 mm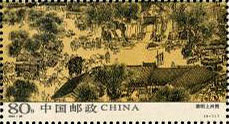 (9-9), The Festival of Pure Brightness on the River, 200 fen, 58*31 mm
Technical details
Serial number: 2004-26
Values in set: 9
Denomination: 840 yuan
Date of issue: October 18, 2004
Designer: Wang Huming
Size of stamp: 58*31mm
Perforation: 12*12.5
Sheet composition: 9(se-tenant)
Printing process: offset-engraving combined
Printer: Beijing Postage Stamp Printing House
Background
The Festival of Pure Brightness on the River,on silk and with light colouring,was painted by Zhang Zeduan,a famous artist of the Northern-Song-Dynasty.This 24.8cm-wide,528.7cm-long painting depicts the prosperous scenes and natural landscapes in the Northern-Song-dynasty capital Bianliang(today¡¯s Kaifeng,Henan Province).The painting has three sections.The first section shows the landseape in the suburbs of the capital city.The middle part of the painting shows the traffic over and under an arch bridge,crowds of people on both sides of the river,and busy merchants.In the last part of the painting are rows upon rows of shops and residential buildings,crisscrossing streets and huge crowds of people.The over 500 figures in the painting are dressed differently,wearing various expressions,and doing all kinds of activities.With ingenious composition and colouring,the painting has been a famous treasure of art for centuries.
Share:

Price List
Item location: China
Ships to: Worldwide
*Shipping (via registered air mail) is based on subtotal of order. See detials below.
| | |
| --- | --- |
| Order Subtotal | S & H |
| $0.01---$15.00 | US $5.00 |
| $15.01---$50.00 | US $6.00 |
| $50.01---$100.00 | US $7.00 |
| $100.01---$180.00 | US $8.00 |
| $180.01---over | US $9.00 |
* 1) for special items shipping and handling cost may be included. 2) Other fast shipping is available.
To special order, please
let us know
what you are looking for. We will help you to meet your unique interests.