2004-28, Scott 3414-17 Ancient calligraphy of China - Li Type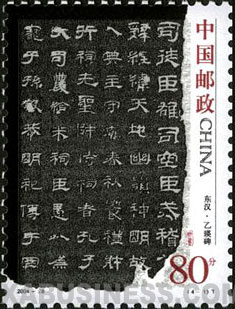 (4-1), East Han dynasty, Yiying stele, 80 fen, 30*40 mm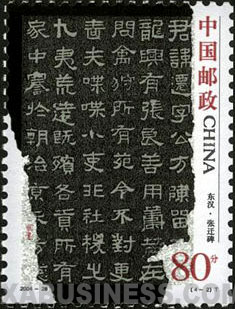 (4-2), East Han dynasty, Zhangqian stele, 80 fen, 30*40 mm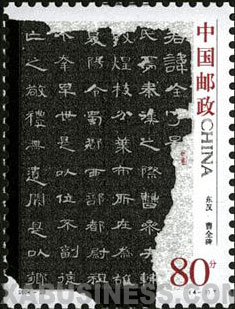 (4-3), East Han dynasty, Caoquan stele, 80 fen, 30*40 mm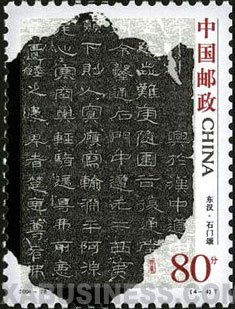 (4-4), East Han dynasty, Shimen Song, 80 fen, 30*40 mm
Technical details
Serial number: 2004-28
Values in set: 4
Denomination: 320 fen
Date of issue: December 5, 2004
Designer: Wang Huming
Size of stamp: 30*40mm
Perforation: 11.5*11
Sheet composition:
16 for Sheet I;
8 for Sheet II(2 sets)
Printing process: Photogravure-engraving
Printer: Beijing Postage Stamp Printing House
Background
Li Type (official script), also called zuoshu or bafen, is an ancient style of calligraphy that simplified the roundabout and curly strokes of seal characters to make writing much easier. Originating from silk and bamboo slip writings, the official script first appeared in the Warring States Period and flourished in the Han Dynasty, and therefore there are the ancient official script and the Han official script. The Han official script, often referred to as the official script, was the current character used in the Han Dynasty. It features vigorous, graceful flat strokes and compact, angular and unsophisticated structures, which people are fond of even today. The pictures of the four stamps show the well-known representative works of official script of the Han Dynasty that had great impact on calligraphy of the later ages.
Share:

Price List
Item location: China
Ships to: Worldwide
*Shipping (via registered air mail) is based on subtotal of order. See detials below.
| | |
| --- | --- |
| Order Subtotal | S & H |
| $0.01---$15.00 | US $5.00 |
| $15.01---$50.00 | US $6.00 |
| $50.01---$100.00 | US $7.00 |
| $100.01---$180.00 | US $8.00 |
| $180.01---over | US $9.00 |
* 1) for special items shipping and handling cost may be included. 2) Other fast shipping is available.
To special order, please
let us know
what you are looking for. We will help you to meet your unique interests.