T164, Scott 2347-50 Imperial Summer Resort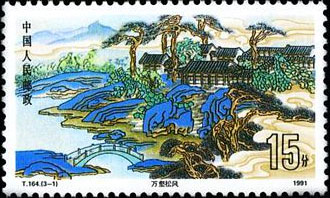 (3-1), The Soughing of the Wind in the Pines, 15 fen, 52*31 mm

(3-2), Waterside Pavilion around with Green Water, 20 fen, 52*31 mm

(3-3), Green Island and Maple, 90 fen, 51*31 mm
Technical details
Scott No: 2347-50
Serial number: T164
Values in set: 3
Denomination: 125 fen
Date of issue: August 10, 1991
Designer: Xiao Yutian
Size of stamps: 52*31 mm
Size of S/S stamp: 90*40mm
Size of S/S: 130*70mm
Perforation: 11.5.11
Sheet composition: 40 (4*10)
Printing process: Photogravure
Printing House: Beijing Postage Stamp Printing Works
Background
Located in the city of Chengde, northern Hebei Province, the Chengde Imperial Summer Resort was first built in 1703, and it was expanded in 1792. The resort occupies a total area of 5.64 sq. m.
Since it is only 250 km from Beijing, emperors of the Qing Dynasty lived here with their concubines and ministers in the summer months every year. The emperors handled court affairs and received foreign envoys and tribal leaders in this summer resort, which was known as the second capital of the dynasty. The structures of the resort mainly include the Dan Bo Jing Cheng (Detachment and Loyalty) Hall, which is entirely made of valuable nanmu wood, and Wenjin Tower, a library housing the Complete Chinese Classics. In addition, there are also Jinshan (Golden Mountain) Temple and Ruyi (Good Luck) Islet.
There were 12 Lamaist temples located in the north and east of the resort. They were built to symbolize the Qing Dynasty's policy of strengthening the unity of the country's various ethnic groups. The existing temples include Puning Temple, Pule Temple, Xumifushou Temple, Putuozongsheng Temple, Anyuan Temple and Shuxiang Temple.
Share:

Price List
Item location: China
Ships to: Worldwide
*Shipping (via registered air mail) is based on subtotal of order. See detials below.
| | |
| --- | --- |
| Order Subtotal | S & H |
| $0.01---$15.00 | US $4.00 |
| $15.01---$60.00 | US $5.00 |
| $60.01---$100.00 | US $6.00 |
| $100.01---over | US $7.00 |
* 1) for special items shipping and handling cost may be included. 2) Other fast shipping is available.
To special order, please
let us know
what you are looking for. We will help you to meet your unique interests.