J182, Scott 2358-60 Noted Figures in the Period of the 1911 Revolution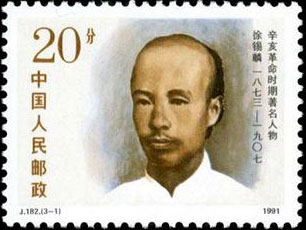 (3-1), Xu Xilin, 20 fen, 40*30 mm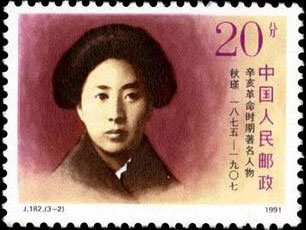 (3-2), Qiu Jin, 20 fen, 40*30 mm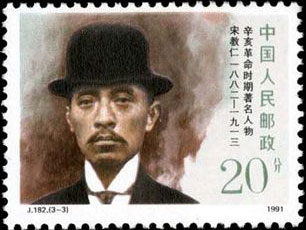 (3-3), Song Jiaoren, 20 fen, 40-30 mm
Technical details
Scott No: 2358-60
Serial number: J182
Values in set: 3
Denomination: 60 fen
Date of issue: October 10, 1991
Designer: Wang Shupeng
Size of stamps: 40*30 mm
Perforation: 11*11.5
Sheet composition: 50 (10*5)
Printing process: Photogravure
Printing House: Beijing Postage Stamp Printing Works
Background
Failure of reform from the top and the fiasco of the Boxer Uprising convinced many Chinese that the only real solution lay in outright revolution, in sweeping away the old order and erecting a new one patterned preferably after the example of Japan. The revolutionary leader was Sun Yat-sen (Sun Yixian in pinyin, 1866- 1925), a republican and anti-Qing activist who became increasingly popular among the overseas Chinese and Chinese students abroad, especially in Japan. In 1905 Sun founded the Tongmeng Hui (United League) in Tokyo with Huang Xing (1874-1916), a popular leader of the Chinese revolutionary movement in Japan, as his deputy. This movement, generously supported by overseas Chinese funds, also gained political support with regional military officers and some of the reformers who had fled China after the Hundred Days' Reform. Sun's political philosophy was conceptualized in 1897, first enunciated in Tokyo in 1905, and modified through the early 1920s. It centered on the Three Principles of the People (san min zhuyi): "nationalism, democracy, and people's livelihood." The principle of nationalism called for overthrowing the Manchus and ending foreign hegemony over China. The second principle, democracy, was used to describe Sun's goal of a popularly elected republican form of government. People's livelihood, often referred to as socialism, was aimed at helping the common people through regulation of the ownership of the means of production and land.
The republican revolution broke out on October 10, 1911, in Wuchang, the capital of Hubei Province, among discontented modernized army units whose anti-Qing plot had been uncovered. It had been preceded by numerous abortive uprisings and organized protests inside China. The revolt quickly spread to neighboring cities, and Tongmeng Hui members throughout the country rose in immediate support of the Wuchang revolutionary forces. By late November, fifteen of the twenty-four provinces had declared their independence of the Qing empire. A month later, Sun Yat-sen returned to China from the United States, where he had been raising funds among overseas Chinese and American sympathizers. On January 1, 1912, Sun was inaugurated in Nanjing as the provisional president of the new Chinese republic. But power in Beijing already had passed to the commander-in-chief of the imperial army, Yuan Shikai, the strongest regional military leader at the time. To prevent civil war and possible foreign intervention from undermining the infant republic, Sun agreed to Yuan's demand that China be united under a Beijing government headed by Yuan. On February 12, 1912, the last Manchu emperor, the child Puyi, abdicated. On March 10, in Beijing, Yuan Shikai was sworn in as provisional president of the Republic of China.
Share:

Price List
Item location: China
Ships to: Worldwide
*Shipping (via registered air mail) is based on subtotal of order. See detials below.
| | |
| --- | --- |
| Order Subtotal | S & H |
| $0.01---$15.00 | US $5.00 |
| $15.01---$50.00 | US $6.00 |
| $50.01---$100.00 | US $7.00 |
| $100.01---$180.00 | US $8.00 |
| $180.01---over | US $9.00 |
* 1) for special items shipping and handling cost may be included. 2) Other fast shipping is available.
To special order, please
let us know
what you are looking for. We will help you to meet your unique interests.