J183, Scott 2367-68 The Centenary of the Birth of Tao Xingzhi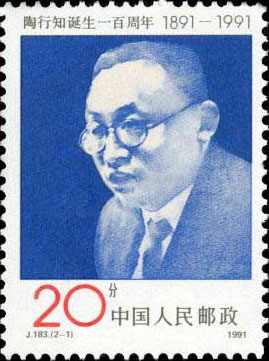 (2-1), Portrait of Tao Xingzhi, 20 fen, 40*30 mm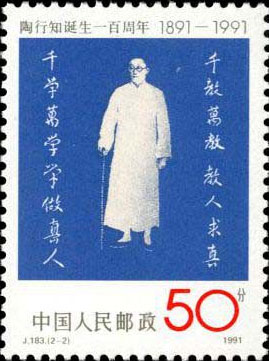 (2-2), Advance for Truth and Be a Man, 50 fen, 40*30 mm
Technical details
Scott No: 2367-68
Serial number: J183
Values in set: 2
Denomination: 70 fen
Date of issue: October 18, 1991
Designers: Ma Gang
Size: 30*40mm
Perforation: 12
Sheet composition: 50 (10*5)
Printing process: offset
Printing House: Beijing Postage Stamp Printing Works
Background
Mr. Tao Xingzhi is a great Chinese educationalist for the people. Born on October 18 in She County of Anhui Province, he went to study in the US after graduating from Jinling University in 1914. Back to China in 1917.
Mr. Tao Xingzhi lived during the critical period of Chinese people and nation suffered by calamity and grief. He was "giving whole-heartedly to the people and taking nothing back", sharing both happiness and sadness with the general public and working closely with Chinese Communist Party. Mr. Tao spared no effort for his whole life and had made indelible contribution for the cause of people's education, liberation and democracy.
Mr. Tao Xingzhi left behind works of 6 million words, which
is a treasure for the mankind. Pooling the souls of thinkings of different educationists, he founded the theory of "Life Education", laying the spiritual foundation for the reform and development of Chinese people's education. Abundantly connotated and precisely dissertated, this theory is closely bound up with the current educationalism with Chinese characteristics. When he passed away, Mrs. Song Qingling eulogized him as "model of teachers for ever", and Mr. Guo Moruo praised him "Two thousand years ago, we had Confucius, and now two thousand years later, we have Mr. Tao Xingzhi". A learned and respectable paragon for teachers, Mr. Tao is deserved to be a "Giant" in China's modern history of education.
Mr. Tao Xingzhi belongs to not only China, but also the whole world.
Share:

Price List
Item location: China
Ships to: Worldwide
*Shipping (via registered air mail) is based on subtotal of order. See detials below.
| | |
| --- | --- |
| Order Subtotal | S & H |
| $0.01---$15.00 | US $5.00 |
| $15.01---$50.00 | US $6.00 |
| $50.01---$100.00 | US $7.00 |
| $100.01---$180.00 | US $8.00 |
| $180.01---over | US $9.00 |
* 1) for special items shipping and handling cost may be included. 2) Other fast shipping is available.
To special order, please
let us know
what you are looking for. We will help you to meet your unique interests.