J181, Scott 2351-52 90th Anniv. of Birth of Chen Yi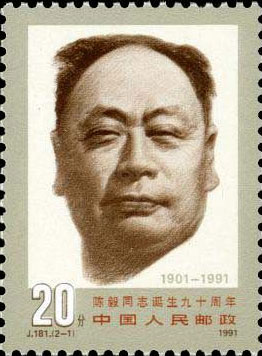 (2-1), Portrait of Chen Yi, 20 fen, 30*40 mm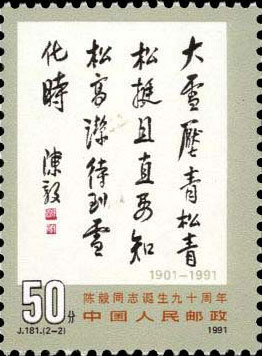 (2-2), Poem by Chen Yi, 50 fen, 30*40 mm
Technical details
Scott No: 2351-52
Serial number: J181
Values in set: 2
Denomination: 70 fen
Date of issue: August 26, 1991
Designer: Li Yinqing
Size of stamps: 30*40 mm
Perforation: 11.5*11
Sheet composition: 50 (10*5)
Printing process: Photogravure
Printing House: Beijing Postage Stamp Printing Works
Background
Chen Yi (1901-1972) was a Chinese communist military commander and politican.
A comrade of Lin Biao from their guerilla days, Chen was a commander of the New Fourth Army during the Sino-Japanese War (1937-1945), spearheaded the Shandong counter-offensive during the Chinese Civil War, and later commanded the Communist armies that defeated the KMT forces at Huai-Hai and conquered the lower Yangzi region in 1948-49. He was made a Marshal of the People's Liberation Army (PLA) in 1955.
After the founding of the People's Republic of China, Chen became mayor of Shanghai. He also served as foreign minister from 1958 to 1972. During the Cultural Revolution, he was purged in 1967, but not officially dismissed, so Zhou Enlai performed the duties of foreign minister in his place.
Share:

Price List
Item location: China
Ships to: Worldwide
*Shipping (via registered air mail) is based on subtotal of order. See detials below.
| | |
| --- | --- |
| Order Subtotal | S & H |
| $0.01---$15.00 | US $5.00 |
| $15.01---$50.00 | US $6.00 |
| $50.01---$100.00 | US $7.00 |
| $100.01---$180.00 | US $8.00 |
| $180.01---over | US $9.00 |
* 1) for special items shipping and handling cost may be included. 2) Other fast shipping is available.
To special order, please
let us know
what you are looking for. We will help you to meet your unique interests.