J179, Scott 2341 220th Anniv. of Peasant Uprising Led by Chen Sheng and Wu Guang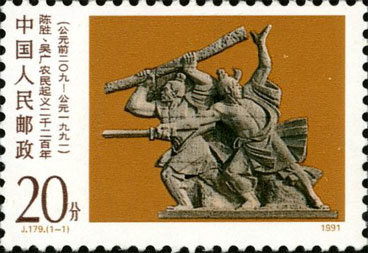 (1-1), 2200th Anniv. of the Peasant Uprising Led by Chen Sheng and Wu Guang, 20 fen, 40*27 mm
Technical details
Scott No: 2341
Serial number: J179
Values in set: 1
Denomination: 20 fen
Date of issue: July 7, 1991
Designer: Jiang Weijie, Li Qingfa
Size of stamps: 40*27 mm
Perforation: 11
Sheet composition: 56 (7*8)
Printing process: photogravure
Printing House: Beijing Postage Stamp Printing Works
Background
Chen Sheng-Wu Guang Uprising was the first large-scale peasant uprising in the Chinese history, which led to the downfall of the Qin Dynasty (221-206BC).
In 210BC, Qin Emperor Shihuang died on his inspection travel. The eunuch Zhao Gao wrote a faked letter to Fu Su by what the deceased emperor ordered Fu Su to commit suicide, and his younger brother Hu Hai, the deceased emperor's favorite, was installed as Second Emperor. He was a cool-hearted and cruel ruler and in order to keep secret of Qin Emperor Shihuang's mausoleum, he plugged up the exit and killed all the workers in it. Already in his first year, rebellions of the old nobility and peasantry broke out.
In 209BC, Hu Hai, the Second Emperor, ordered 900 people in the Huaihe River Rigion to Yuyang (today's Minyun in Beijing) to keep guard. It was July when it rained a lot. When people arrived in Dazexiang (southwest in today's Suxian County in Anhui Province), it began to rain cats and dogs; and they were bound to be late. According to the laws at that time, those who failed to observe deadlines would be sentenced to death. People had no other choice but to rise up in revolt.
Chen Sheng and Wu Guang were both from Henan Province. They led the peasants to attack and occupy finally the Chen County (today's Hengyang in Henan Province), and they established their own regime of Zhangchu. Then their army sent westward by Chen Sheng to fight against Qin army was defeated by Zhang Han. Later, Chen Sheng and Wu Guang were murdered by their subordination. And the rest of the army was surrendered to Liu Bang and Xiang Yu. In 206BC, the Qin Dynasty came to an infamous end and the glorious dynasty fell victim to the fear and mistrust bred by its own despotic excesses.
Share:

Price List
Item location: China
Ships to: Worldwide
*Shipping (via registered air mail) is based on subtotal of order. See detials below.
| | |
| --- | --- |
| Order Subtotal | S & H |
| $0.01---$15.00 | US $5.00 |
| $15.01---$50.00 | US $6.00 |
| $50.01---$100.00 | US $7.00 |
| $100.01---$180.00 | US $8.00 |
| $180.01---over | US $9.00 |
* 1) for special items shipping and handling cost may be included. 2) Other fast shipping is available.
To special order, please
let us know
what you are looking for. We will help you to meet your unique interests.