T148, Scott 2266-9 Plant Trees and Make Our Country Green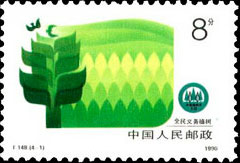 (4-1), Planting Tree is Everybody's Duty, 8 fen, 40*27 mm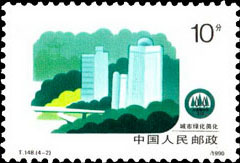 (4-2), Make Cities Green and Beautiful, 10 fen, 40*27 mm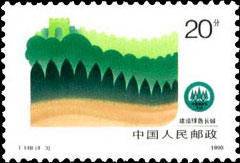 (4-3), Building the Green Wall, 20 fen, 40*27 mm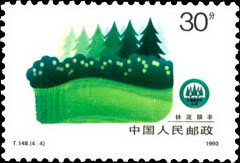 (4-4), A Dense Forest and a Bumper Grain Harvest, 30 fen, 40*27 mm
Technical details
Scott No: 2266-9
Serial number: T148
Values in set: 4
Date of issue: March 12, 1990
Denomination: 68 fen
Designers: Sun Jingzhong
Size of stamps: 40*27mm
Perforation: 11
Sheet composition: 50 (10*5)
Printing process: Photogravure
Printing House: Beijing Postage Stamp Printing Works
Background
Today, the earth's deserts are spreading and getting larger and desertification is a serious problem facing the world. The major reason for this is irresponsible cutting down of trees. As is shown in the first cartoon, when people cut down trees desert forces on and becomes irrepressible.
People cut down trees for various reasons but they may forget that trees play a vital part in water and soil conservation. Trees can preserve moisture and fertility in the soil, protect soil against erosion and prevent fertile land from becoming desert. Therefore when people cut down all of the trees, the earth lies bare and dry in the hot sun, and desert is inevitable.
Desertification can lead to many other serious problems which may threaten the existence of human beings, such as a reduction of arable land, terrible droughts and famine. In order to prevent desertification, people have to plant trees, as the second cartoon shows. The time when people plant trees is the time when desert retreats. People should not cut down trees any more, as is done in the first cartoon, but rather, they should plant more trees, and only in this way can desertification be finally defeated.
Share:

Price List
Item location: China
Ships to: Worldwide
*Shipping (via registered air mail) is based on subtotal of order. See detials below.
| | |
| --- | --- |
| Order Subtotal | S & H |
| $0.01---$15.00 | US $5.00 |
| $15.01---$50.00 | US $6.00 |
| $50.01---$100.00 | US $7.00 |
| $100.01---$180.00 | US $8.00 |
| $180.01---over | US $9.00 |
* 1) for special items shipping and handling cost may be included. 2) Other fast shipping is available.
To special order, please
let us know
what you are looking for. We will help you to meet your unique interests.