T153, Scott 2287-8 Uncia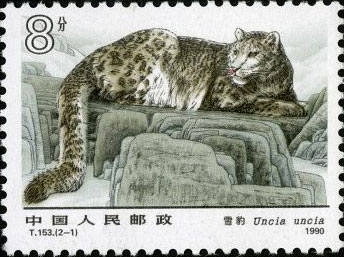 (2-1), Uncia, 8 fen, 40*30 mm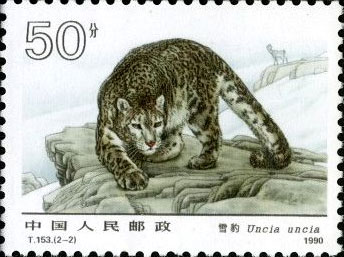 (2-2), Uncia, 50 fen, 40*30 mm
Technical details
Scott No: 2287-8
Serial number: T153
Values in set: 2
Date of issue: July 20, 1990
Denomination: 58 fen
Designers: Xu Yanbo
Size of stamps: 40*30 mm
Perforation: 11.5
Sheet composition: 40 (4*10)
Printing process: Photogravure
Printing House: Beijing Postage Stamp Printing Works
Background
With the aliases of Grass Leopard and Argyi-Leaf Leopard, it belongs to the Felidae family of Carnivora order. Its scientific Latin name is Panthera uncia, and English name is Snow Leopard.
It is 110 to 130 centimeters in body length, 80 to 90 centimeters in tail length, and 38 to 75 kilograms in weight. Its head is small and round. It has long and dense hair coat all over, grayish yellow or hoar, with the body hair about 3 centimeters in length, and belly hair up to 6.5 centimeters. It has blurry or irregular large black ring spots on the back and chest sides. Its long tail has long and tousy hair. It is the most beautiful sort of leopards.
Snow Leopard inhabits at an elevation of 2,000 to 6,000 meters, regularly moving about the bare rocks of high mountains. It is ferocious, astute, and dexterous in action, mainly feeding on rock-sheep, argali, as well as klipdas, marmots and puppies of the pheasant genus, etc. Its estrum is from late winter to early spring, while the gestation period lasts 90 to 103 days. It litters between June and July, with 2 to 3 babies per fetus. At the age of two, it grows to sexual maturity. It has a lifespan of about 10 years in general, with the longest up to 15.8 years.
In China, it is distributed in Qinghai-Tibet Plateau, Xinjiang Uygur Autonomous Region, Gansu Province and Inner Mongolia Autonomous Region, etc. It is small in quantity and has been listed in Appendix I of International Trade Convention on Endangered Wild Animal and Plant Species.
Share:

Price List
Item location: China
Ships to: Worldwide
*Shipping (via registered air mail) is based on subtotal of order. See detials below.
| | |
| --- | --- |
| Order Subtotal | S & H |
| $0.01---$15.00 | US $5.00 |
| $15.01---$50.00 | US $6.00 |
| $50.01---$100.00 | US $7.00 |
| $100.01---$180.00 | US $8.00 |
| $180.01---over | US $9.00 |
* 1) for special items shipping and handling cost may be included. 2) Other fast shipping is available.
To special order, please
let us know
what you are looking for. We will help you to meet your unique interests.