T149, Scott 2270-73 Painted Pottery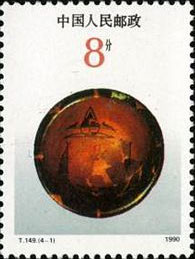 (4-1), Kind of Ban-po, 8 fen, 30*40 mm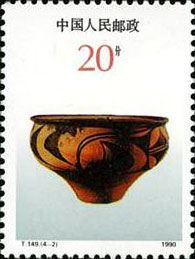 (4-2), Kind of Miao-di-gou, 20 fen, 30*40 mm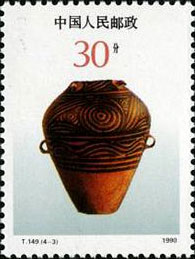 (4-3), Kind of Ma-jia-yao, 30 fen, 30*40 mm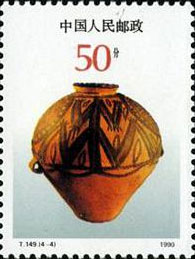 (4-4), Kind of Mao-chang, 50 fen, 30*40 mm
Technical details
Scott No: 2270-73
Serial number: T149
Values in set: 4
Date of issue: April 10, 1990
Denomination: 108 fen
Designers: Wang Huming
Size of stamps: 30*40mm
Perforation: 11.5*11
Sheet composition: 50 (10*5)
Printing process: Offset
Printing House: Beijing Postage Stamp Printing Works
Background
China is a porcelain country and the history of porcelain can be traced back to about 3500 years ago of Shang Dynasty. At that time, famous kilns could be found everywhere and masterworks rose every now and then. In this process of pursuing, enjoying, and creating beauties, we can find both the unique aesthetic abilities of the Chinese people as well as multifarious genres of Chinese art. As a melting-kiln of different traditional Chinese porcelain genres of Guan, Ru, Ding, Ge, and Jun, its ever-lasting kiln fire embodies not only the top goal of porcelain culture but also the most exquisite techniques of Chinese Porcelain craftsmen and artists. It is of no doubt that everyone will be proud of the artistic fortune our country possesses and have a feeling of satisfaction when he stands before these rare porcelain curiosa appreciating their charms.
The first one is Banpo color pottery basin with a human being's face and fish lines, unearthed in the relic place of Banpo in Xi'an of Shaanxi Province.
The second is a curved belly pottery basin with Miaodigou type evolving bird lines, unearthed in Miaodigou in Shanxian County of Henan Province.
The third is Screw mouth color pottery vase of Majiayao type unearthed in Yongjing County of Gansu Province
The fourth is color pottery pot with deity and man? shape lines of Machang type, unearthed in Sanjia relics in Minhe County of Qinghai Province.
Share:

Price List
Item location: China
Ships to: Worldwide
*Shipping (via registered air mail) is based on subtotal of order. See detials below.
| | |
| --- | --- |
| Order Subtotal | S & H |
| $0.01---$15.00 | US $5.00 |
| $15.01---$50.00 | US $6.00 |
| $50.01---$100.00 | US $7.00 |
| $100.01---$180.00 | US $8.00 |
| $180.01---over | US $9.00 |
* 1) for special items shipping and handling cost may be included. 2) Other fast shipping is available.
To special order, please
let us know
what you are looking for. We will help you to meet your unique interests.