2001-3, Scott 3085-90 The Chou(Clown) Roles in Jingju(Peking Opera)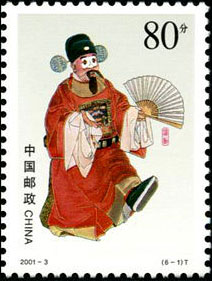 (6-1), Tang Qin, 80 fen, 30*40 mm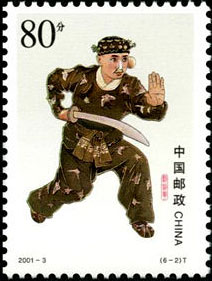 (6-2), Liu Lihua, 80 fen, 30*40 mm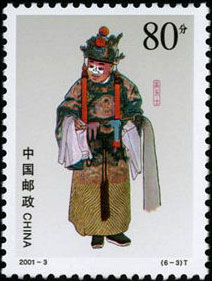 (6-3), Gao Lishi, 80 fen, 30*40 mm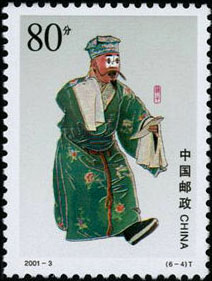 (6-4), Jiang Gan, 80 fen, 30*40 mm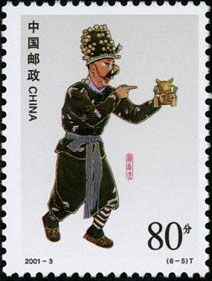 (6-5), Yang Xiangwu, 80 fen, 30*40 mm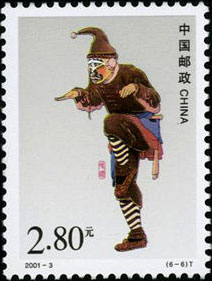 (6-6), Shi Qian, 280 fen, 30*40 mm
Technical details
Scott No: 3085-90
Serial number: 2001-3
Values in set: 6
Denomination: 6.80 yuan
Date of issue: 15 February 2001
Designer: Li Qingfa and Jiang Weijie
Size: 30*40 mm
Perforation: 12*11.5
Sheet composition: 20
Printing process: gravure
Printer: Beijing Postage Stamp Printing House
Background
Jingju is the most popular and influential opera in China. It has carried forward long-term traditions of Chinese operas and has been appreciated as the national opera. The roles in Jingju are divided into four categories: sheng, dan, jing and chou. The chou roles stand fundamentally for humorous, quick-witted, or vivacious characters. This type of roles can be recognized by the patch of white in various shapes painted around the eyes and nose. Sometimes these patches are outlined in black or in other colors, hence the name "partly painted face" or "painted face in three colors". The chou roles play different characters from noble officials to ordinary people. The chou roles leave a profound impression among audiences with their vivid and funny actions.
Share:

Price List
Item location: China
Ships to: Worldwide
*Shipping (via registered air mail) is based on subtotal of order. See detials below.
| | |
| --- | --- |
| Order Subtotal | S & H |
| $0.01---$15.00 | US $4.00 |
| $15.01---$60.00 | US $5.00 |
| $60.01---$100.00 | US $6.00 |
| $100.01---over | US $7.00 |
* 1) for special items shipping and handling cost may be included. 2) Other fast shipping is available.
To special order, please
let us know
what you are looking for. We will help you to meet your unique interests.