2001-1, Scott 3078-82 Turn of the Century, Beginning of a New Millennium-Entering the 21st Century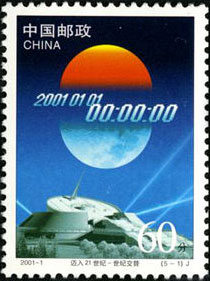 (5-1), Turn of the Century, 60 fen, 30*40mm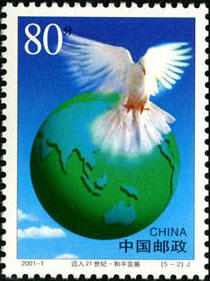 (5-2), Peaceful Development, 80 fen, 30*40mm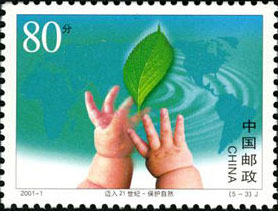 (5-3), Natural Protection, 80 fen, 40*30mm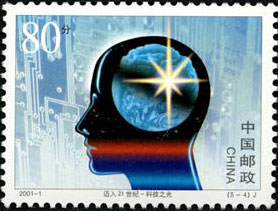 (5-4), Light of Science and Technology, 80 fen, 40*30mm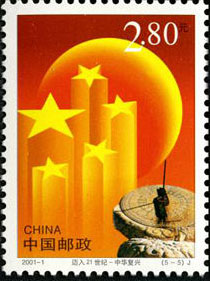 (5-5), China's Rejuvenation, 280 fen, 30*40mm
Technical details
Scott No: 3078-82
Serial number: 2001-1
Values in set: 5
Denomination: 5.80 yuan
Date of issue: 1 January 2001
Designer: Zhang Lei
Size:
30*40mm for values 1,2, 5
40*30mm for values 3 and 4
Perforation: 12
Sheet composition: 20
Printing process: offset
Printer: Shenyang Post and Telecommunication Printing Works
Background
The first sunrise of the 21st century was welcomed all over the world. During the past century, humans and societies have experienced ups and downs, made huge material and spiritual advances and there have been great economic and social changes. Looking forward to the future, we believe the changing scientific and technological development each passing day will make tomorrow better. We wish all people peaceful, prosperous and speedy development in the 21st century. Let us join together to write a more brilliant chapter in mankind's history.
Share:

Price List
Item location: China
Ships to: Worldwide
*Shipping (via registered air mail) is based on subtotal of order. See detials below.
| | |
| --- | --- |
| Order Subtotal | S & H |
| $0.01---$15.00 | US $4.00 |
| $15.01---$60.00 | US $5.00 |
| $60.01---$100.00 | US $6.00 |
| $100.01---over | US $7.00 |
* 1) for special items shipping and handling cost may be included. 2) Other fast shipping is available.
To special order, please
let us know
what you are looking for. We will help you to meet your unique interests.