T154, Scott 2294 Chinese Films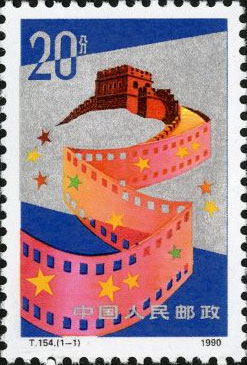 (1-1), Chinese Film, 20 fen, 27*40 mm
Technical details
Scott No: 2294
Serial number: T154
Values in set: 1
Date of issue: September 21, 1990
Denomination: 20 fen
Designers: Lu Tianjiao
Size of stamps: 27*40mm
Perforation: 11
Sheet composition: 50 (10*5)
Printing process: Photogravure
Printing House: Beijing Postage Stamp Printing Works
Background
China's major annual national awards include the" Golden Rooster Film Awards" sponsored by the China Film Association, the "Hundred Flowers Awards" of the magazine" Popular Cinema" and the" Outstanding Film Awards" given by the Ministry of Radio Film and Television.
The annual" Golden Rooster Film Awards," named for the Year of the Rooster, were initiated in 1981. With a jury of more than 20 prominent film artists, critics and film artists, critics and film historians, they cover a wide range of film categories and performances and are designed to promote creativity, film research and criticism. After a period of suspension during the" cultural revolution," the" Hundred Flowers Awards" were resumed in 1980, having begun in 1962. These awards are usually limited to seven categories; for three best films, best leading actor and actress and best supporting actor and actress. Winners are selected by a viewers' poll. To encourage and promote the film industry, the government makes its own awards in several categories. Issued by the Ministry of Culture before 1986 and by the Ministry of Radio, Film and Television since that time, the awards were resumed in 1980 after a suspension of more than 20 years. The awards were first instituted in 1957.
In China, the first generation of directors usually refers to Chinese opera directors like Zheng Zhengqiu and Cai Chusheng who turned to the screen in the 1920s at the dawn of the film making age. They produced silent films of Chinese operas. The opera films gave way to modern drama films in the '30s and '40s, made by second generation artists as Yuan Muzhi and Tang Xiaodan, all former stage directors. The third generation, which includes Ling Zifeng, Xie Tian and Xie Jin, refers to a group of directors who emerged in the 1950s after the founding of New China. The fourth generation includes graduates like Wu Yigong and Wu Tianming, of the China Film Academy and other film schools. These older directors are basically followers of traditional techniques of expression taught by Soviet experts in the 1950s. But the" Fifth Generation" has drawn much more on modern Western literature and Western schools of films since their horizons were broadened through film exchanges with foreign countries after the" Cultural Revolution." Their films, like Chen Kaige's " Yellow Earth" and" The King of Children", Zhang Junzhao's "One and Eight, Tian Zhuang zhuang's" The Horse Thief," Zhang Yimou's" Red Sorghum" and Woo Ziniu's" Evening Bell, " usually stress message rather than plot, and use fast -paced imagery rather than dialogue to convey their messages.
If we talk about Chinese movies here, we must pay enough attention to the film industry in Hangkong, which can be called the Eastern Hollywood.
Share:

Price List
Item location: China
Ships to: Worldwide
*Shipping (via registered air mail) is based on subtotal of order. See detials below.
| | |
| --- | --- |
| Order Subtotal | S & H |
| $0.01---$15.00 | US $5.00 |
| $15.01---$50.00 | US $6.00 |
| $50.01---$100.00 | US $7.00 |
| $100.01---$180.00 | US $8.00 |
| $180.01---over | US $9.00 |
* 1) for special items shipping and handling cost may be included. 2) Other fast shipping is available.
To special order, please
let us know
what you are looking for. We will help you to meet your unique interests.