T158, Scott 2314 Han Xizai's Party Picture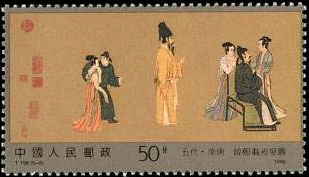 (5-1), Han Xizai's Party Picture, 50 fen, 60*34 mm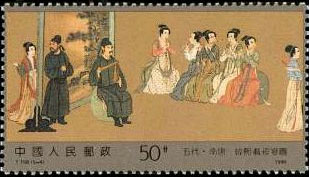 (5-2), Han Xizai's Party Picture, 50 fen, 60*34 mm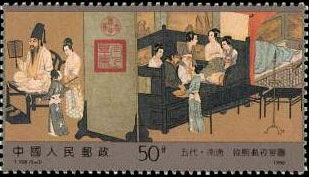 (5-3), Han Xizai's Party Picture, 50 fen, 60.34 mm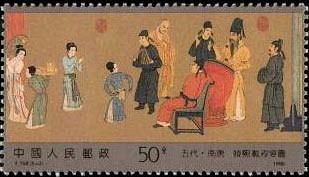 (5-4), Han Xizai's Party Picture, 50 fen, 60*34 mm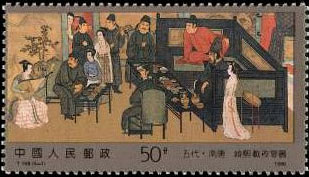 (5-5), Han Xizai's Party Picture, 50 fen, 60*34 mm
Technical details
Scott No: 2314
Serial number: T158
Values in set: 5
Date of issue: November 20, 1990
Denomination: 250 fen
Designers: Wang Huming
Size of stamps: 60*34mm
Perforation: 11
Sheet composition: 20 (5*4)
Printing process: Offset
Printing House: Beijing Postage Stamp Printing Works
Background
Water colour block printing, a type of block printing, is employed to reproduce famous works of painting and calligraphy. The art has a long history in China. In 1900, the world's oldest known book printed by engraved blocks came to light from the Dunhuang Grottoes in the form of the 1,100-year-old version of the Prajnaparamita (or Diamond) Sutra produced in A.D. 868 under the Tang Dynasty, now kept in the British Museum in London. During the reign of Tianqi (1621-1627) of the Ming Dynasty, a colour printing process called douhan was perfected for the first time to produce coloured pictures by means of separate blocks, each printing a different colour. The celebrated horizontal scroll "Han Xizai's Party" by the 10th-century artist Gu Hongzhong, measuring over 4 metres long, is noted for its refined portrayal of characters and intricate combination of tones.
Share:

Price List
Item location: China
Ships to: Worldwide
*Shipping (via registered air mail) is based on subtotal of order. See detials below.
| | |
| --- | --- |
| Order Subtotal | S & H |
| $0.01---$15.00 | US $5.00 |
| $15.01---$50.00 | US $6.00 |
| $50.01---$100.00 | US $7.00 |
| $100.01---$180.00 | US $8.00 |
| $180.01---over | US $9.00 |
* 1) for special items shipping and handling cost may be included. 2) Other fast shipping is available.
To special order, please
let us know
what you are looking for. We will help you to meet your unique interests.