J171, Scott 2293 Eliminate Illiteracy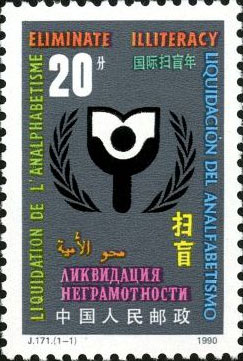 (1-1), Eliminate Illiteracy, 20 fen, 27*40 mm
Technical details
Scott No: 2293
Serial number: J171
Values in set: 1
Date of issue: September 8, 1990
Denomination: 20 fen
Designers: Wan Weisheng
Size of stamps: 27*40mm
Perforation: 11
Sheet composition: 50 (10*5)
Printing process: Photogravure
Printing House: Beijing Postage Stamp Printing Works
Background
Adult education has long been important in Europe, where formal programs began in the 18th century. For example, the Danish folk high school movement in the mid-19th century prevented the loss of Danish language and culture that a strong German influence threatened to absorb. In Great Britain, concern for the education of poor and working-class people resulted in the growth of adult education programs, such as the evening school and the Mechanic's Institute, to expand educational opportunities for all people. After the Russian Revolution the Soviet government virtually eliminated illiteracy through the establishment of various institutions and extension classes for adults.
  In other areas of the world adult education movements are of a more recent origin. In 1960, Egypt established a "schools for the people" system designed to educate the adult population. The pattern used is similar to that developed in Great Britain a century ago. After many years in which the primary educational concern was creating public school systems, in the 1970s countries in Africa, Asia, and Latin America began to increase opportunities for adult education. Innovative programs involving the mass media are being used in many countries. Tanzania, for example, has used mass-education techniques and the radio to organize national education programs in health, nutrition, and citizenship. In the 1980s, international educational exchange programs involving short-term non-degree study in specialized fields grew in popularity in the United States.
  An educated population is a necessity for any nation wishing to take advantage of modern  technological growth. For instance, research has shown a direct relationship between literacy among women and improved health and child care in the family. The United Nations Educational, Scientific and Cultural Organization (UESCO) has long supported the concept that education must be considered an ongoing process. UNESCO has encouraged literacy programs, agricultural extension, and community instruction. The low cost and flexibility of such programs make adult education suitable for many areas of the world that do not yet have formal school programs.
Share:

Price List
Item location: China
Ships to: Worldwide
*Shipping (via registered air mail) is based on subtotal of order. See detials below.
| | |
| --- | --- |
| Order Subtotal | S & H |
| $0.01---$15.00 | US $5.00 |
| $15.01---$50.00 | US $6.00 |
| $50.01---$100.00 | US $7.00 |
| $100.01---$180.00 | US $8.00 |
| $180.01---over | US $9.00 |
* 1) for special items shipping and handling cost may be included. 2) Other fast shipping is available.
To special order, please
let us know
what you are looking for. We will help you to meet your unique interests.