2003-14, Scott 3291-2 Centenary of the Invention of the Airplane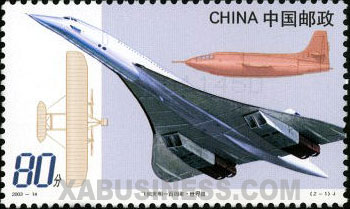 (2-1), World Airplanes, 80 fen, 50*30 mm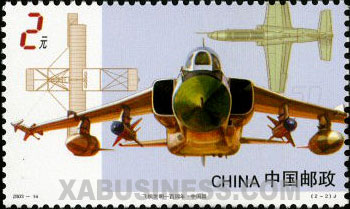 (2-2), Airplanes of China, 200 fen, 50*30 mm
Technical details
Scott No: 3291-2
Serial number: 2003-14
Values in set: 2
Denomination: 2.80 yuan
Date of issue: 9th August 2003
Designer: Huang Huaqiang and Nie Chongwen
Size of stamps: 50*30 mm
Perforation: 13*12.5
Sheet composition:
16 for Sheet I
12 for Sheet II
Printing process: Photogravure
Printer: Beijing Postage Stamp Printing House
Background
On December 17, 1903, the first powered airplane invented by the Wright brothers accomplished its historical flight, realizing the human beings' dream of flying. The world aviation industry thrived. In the 100 years after the invention of the airplane, the humanity has made one after another breakthrough, creating several thousand kinds of aircrafts, and occupying the whole sky. The invention and development of the airplane have shortened the distance between people living in different parts of the planet, and promoted the progress of the world civilization. China started its aviation industry later than some other countries, but now ranks among major aviation countries after efforts for half a century. This is the pride of the Chinese nation.
Share:

Price List
Item location: China
Ships to: Worldwide
*Shipping (via registered air mail) is based on subtotal of order. See detials below.
| | |
| --- | --- |
| Order Subtotal | S & H |
| $0.01---$15.00 | US $5.00 |
| $15.01---$50.00 | US $6.00 |
| $50.01---$100.00 | US $7.00 |
| $100.01---$180.00 | US $8.00 |
| $180.01---over | US $9.00 |
* 1) for special items shipping and handling cost may be included. 2) Other fast shipping is available.
To special order, please
let us know
what you are looking for. We will help you to meet your unique interests.