2003-18, Scott 3311-13 The Double Ninth Festival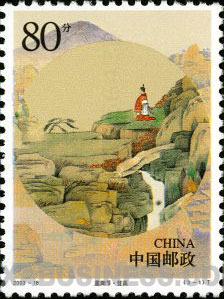 (3-1), Climbing Mountain, 80 fen, 30*40 mm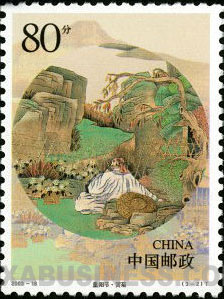 (3-2), Enjoying the Beauty of Chrysanthemum, 80 fen, 30*40 mm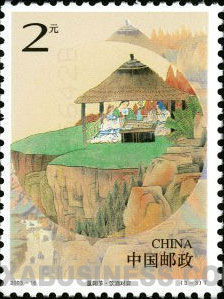 (3-3), Playing Chess and Drinking Wine, 200 fen, 30*40 mm
Technical details
Scott No: 3311-13
Serial number: 2003-18
Values in set: 3
Denomination: 3.60 yuan
Date of issue: 4th October 2003
Designer: Liu She
Size of stamps: 30*40 mm
Perforation: 11.5
Sheet composition:
20 for Sheet I, 9 for Sheet II
Printing process: gravure
Printer: Beijing Postage Stamp Printing House
Background
The Double Ninth Festival, falling on the ninth day of the ninth month of the lunar calendar, is one of China's traditional festivals. It originated from the Han Dynasty according to historical records. As the legend goes, a person from Runan, following the instruction of hermit, wore cornel on the ninth day of the ninth lunar month and climbed a mountain with his family to avoid a catastrophe. Later climbing mountain, wearing cornel and taking chrysanthemum brew became a folk tradition for praying for peaceful life and lasting happiness. In ancient China, the number nine was regarded as the largest number of yang, therefore the ninth day of the ninth month is also called the day of "double yang". As the pronunciation of nine in Chinese is the same as that of "long time", "double nine" implies "longevity" and respect for the elderly. It has gradually become a festival of the elderly people, and is widely known as "the Senior People's Day".
Share:

Price List
Item location: China
Ships to: Worldwide
*Shipping (via registered air mail) is based on subtotal of order. See detials below.
| | |
| --- | --- |
| Order Subtotal | S & H |
| $0.01---$15.00 | US $5.00 |
| $15.01---$50.00 | US $6.00 |
| $50.01---$100.00 | US $7.00 |
| $100.01---$180.00 | US $8.00 |
| $180.01---over | US $9.00 |
* 1) for special items shipping and handling cost may be included. 2) Other fast shipping is available.
To special order, please
let us know
what you are looking for. We will help you to meet your unique interests.