2003-20, Scott 3315-9 The Story of Liang Shanbo and Zhu Yingtai, a Folk Legend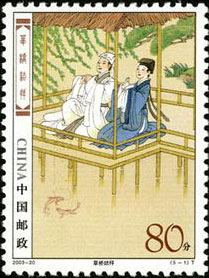 (5-1), Becoming Sworn Brothers at Caoqiao, 80 fen, 30*40 mm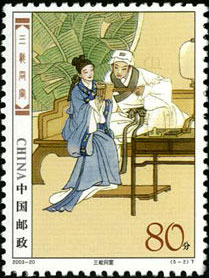 (5-2), Classmates for Three Years, 80 fen, 30*40 mm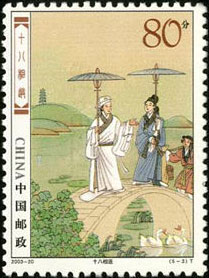 (5-3), Bidding Farewell, 80 fen, 30*40 mm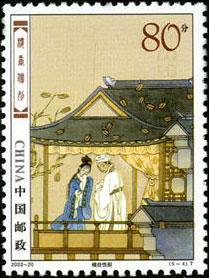 (5-4), Sad parting on the Terrace, 80 fen, 30*40 mm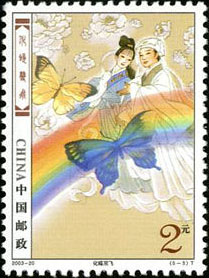 (5-5), Turing into Butterflies, 200 fen, 30*40 mm
Technical details
Scott No: 3315-9
Serial number: 2003-20
Values in set: 5
Denomination: 5.20 yuan
Selling price of the booklet: 8.00 yuan
Date of issue: 18th October 2003
Designer: Gao Yun
Size of stamps: 30*40 mm
Perforation: 12
Sheet composition:
20 for Sheet I, 10 for Sheet II
Printing process: gravure
Printer: Beijing Postage Stamp Printing House
Background
The story of Liang Shanbo and Zhu Yingtai has been a household love story in China for more than 1000 years. The heroine Zhu Yingtai, disguised as a man, becomes bosom friends with Liang Shanbo, a classmate of hers for 3 years. Before returning home, Yingtai implies to shanbo that she will be his wife. Knowing that Yingtai is woman, the delighted Shanbo hurries to her home, only to find that her family has betrothed her to someone else against her will. Under the pressure of the patriarchal clan rules and feudal ethics, they die for love and return into a pair of butterflies. The moving tragic legend extols pure love and freedom of love. First appearing in the early Tang Dynasty, the story was put on the stage in the Song and Yuan dynasties, and plays based on the story was widely performed during the Ming and Wing dynasties. The story has been handed down to this day in manifold forms.
Share:

Price List
Item location: China
Ships to: Worldwide
*Shipping (via registered air mail) is based on subtotal of order. See detials below.
| | |
| --- | --- |
| Order Subtotal | S & H |
| $0.01---$15.00 | US $5.00 |
| $15.01---$50.00 | US $6.00 |
| $50.01---$100.00 | US $7.00 |
| $100.01---$180.00 | US $8.00 |
| $180.01---over | US $9.00 |
* 1) for special items shipping and handling cost may be included. 2) Other fast shipping is available.
To special order, please
let us know
what you are looking for. We will help you to meet your unique interests.