1999-14, Scott 2977-78 Lushan Mountain and Kuryongyon Mountain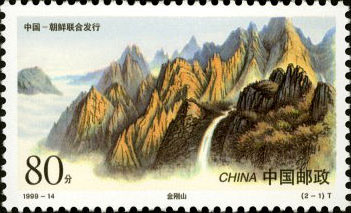 (2-1), Lushan Mountain, 80 fen, 50*30mm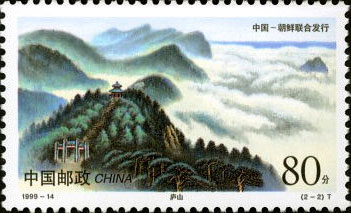 (2-2), Kuryongyon Mountain, 80 fen, 50*30mm
Technical details
Scott No: 2977-78
Serial number: 1999-14
Values in set: 2
Denomination: 160fen
Date of issue: 5 October 1999
Designers: Li Defu & An Zhe(DPRK)
Size: 50*30mm
Perforation: 11.5
Sheet composition: 16
Printing process: gravure
Printer: Beijing Postage Stamp Printing House
Background
Both Lushan and Kuryongyon Mountains are famous for their long history, culture and beautiful natural scene. Lushan Mountain in China's Jiangxi Province stands by the Poyang Lake with the Yangtze River flowing by just to its north. The mountain is appreciated as "the most fantastic mountain under the heaven"for its towering praks shrouded in mist, roaring waterfalls, wonderful rocks in different shapes, clean springs among famous summer resort in Chian. Kuryongyon Mountain is in the eastern part of Kangwon-Do and at the northern end of Taebaek Mountain. It is famous for its fantastic rocks, roaring waterfalls, unique caves and clouds. It is appreciated as the first mountain in the DPRK for its historical sites, pavilions, temples and steles.
Share:

Price List
Item location: China
Ships to: Worldwide
*Shipping (via registered air mail) is based on subtotal of order. See detials below.
| | |
| --- | --- |
| Order Subtotal | S & H |
| $0.01---$15.00 | US $5.00 |
| $15.01---$50.00 | US $6.00 |
| $50.01---$100.00 | US $7.00 |
| $100.01---$180.00 | US $8.00 |
| $180.01---over | US $9.00 |
* 1) for special items shipping and handling cost may be included. 2) Other fast shipping is available.
To special order, please
let us know
what you are looking for. We will help you to meet your unique interests.