1999-16, Scott 2980-83 Scientific and Technological Achievements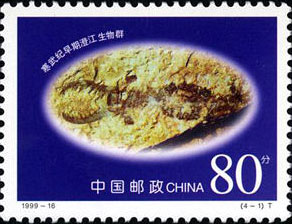 (4-1), Early Cambrian Chengjiang Biota, 80 fen, 40*30mm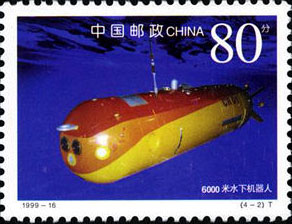 (4-2), 6.000m Underwater Robot, 80 fen, 40*30mm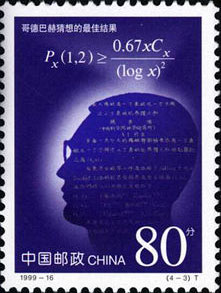 (4-3), The Best Result of Goldbach Conjecture, 80 fen, 30*40mm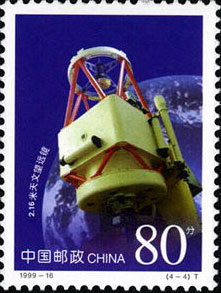 (4-4), 2.16m Astronomical Telescope, 80 fen, 30*40mm
Technical details
Scott No: 2980-83
Serial number: 1999-16
Values in set: 4
Denomination: 320fen
Date of issue: 1 November 1999
Designers: Hu Zhenyuan
Size:
40*30mm for Value 1 and 2
30*40mm for Value 3 and 4
Perforation: 12
Sheet composition: 20
Printing process: offset
Printer: Shenyang Posts and Telecommunications Printing House
Background
On November1, 1999 was the 50th anniversay of the founding of the Chinese Academy of Sciences. The Chinese Academy of Sciences is the highest academic institute of the state science and technology and a national center of natural science and hi-tech research and development. In the past 50 years, the academy has undertaken China's heavy tasks of basic, strategic, comprehensive and forward research and development. Its staff members, together with scientists and technicians from other fields, have made a lot of breakthroughs and achieved tremendous results which have become the focus of world attention and made great contributions to the economic construction, social development, civilization and progress of the society. Stamps demonstrate some important world-known scientific and technological achievements made by the Chinese Academy of Sciences
Share:

Price List
Item location: China
Ships to: Worldwide
*Shipping (via registered air mail) is based on subtotal of order. See detials below.
| | |
| --- | --- |
| Order Subtotal | S & H |
| $0.01---$15.00 | US $4.00 |
| $15.01---$60.00 | US $5.00 |
| $60.01---$100.00 | US $6.00 |
| $100.01---over | US $7.00 |
* 1) for special items shipping and handling cost may be included. 2) Other fast shipping is available.
To special order, please
let us know
what you are looking for. We will help you to meet your unique interests.