1999-13, Scott 2974-75 The 50th Anniversary of the Establishment of CPPCC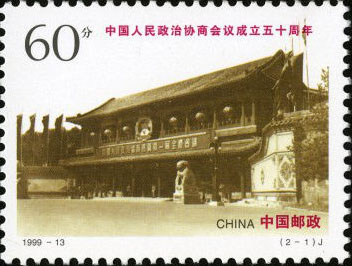 (2-1), The First Session of the CPPCC Held in Zhongnanhai, 60 fen, 40*30mm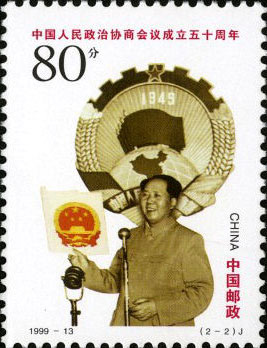 (2-2), The CPPCC Session Discussing and Approving the Design of the National Emblem, 80 fen, 30*40mm
Technical details
Scott No: 2974-75
Serial number: 1999-13
Values in set: 2
Denomination: 140fen
Date of issue: 21 September 1999
Designers: Ma Quan
Size:
Value 1: 40*30mm
Value 2: 30*40mm
Perforation: 12
Sheet composition: 50
Printing process: offset
Printer: Shenyang Post & Telecommunication Printing Works
Background
The CPPCC is an organization of patriotic united front of the Chinese people and an important institute for multi-party cooperation and political consultation under the leadership of the Chinese Communist Party. It has a national committee and local committees. Its main functions are political consultation, democratic supervision and organizing all parties, groups and people from all walks of life to participate in and discuss government affairs. The CPPCC was established at the eve of the founding of New China in 1949 and held its first conference on September 21, 1949. In the past 50 years, the CPPCC has played an important irreplaceable role in political life, in the maintenance of unification of the motherland, strengthening the unity of all nationalities and modernization of the country.
Share:

Price List
Item location: China
Ships to: Worldwide
*Shipping (via registered air mail) is based on subtotal of order. See detials below.
| | |
| --- | --- |
| Order Subtotal | S & H |
| $0.01---$15.00 | US $5.00 |
| $15.01---$50.00 | US $6.00 |
| $50.01---$100.00 | US $7.00 |
| $100.01---$180.00 | US $8.00 |
| $180.01---over | US $9.00 |
* 1) for special items shipping and handling cost may be included. 2) Other fast shipping is available.
To special order, please
let us know
what you are looking for. We will help you to meet your unique interests.