1998-24, Scott 2911-15 Commemoration for the Three Campaigns in the Liberation War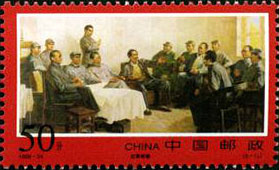 (5-1), Making Splendid Plans, 50 fen, 50*30mm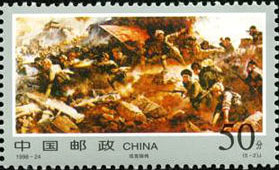 (5-2), Conquering Jinzhou, 50 fen, 50*30mm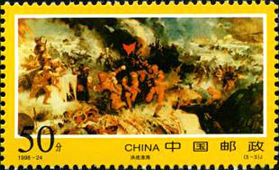 (5-3), Decisive Battle Field in Huaihai, 50 fen, 50*30mm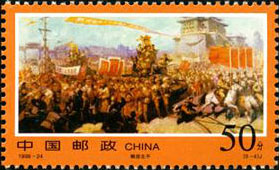 (5-4), Liberating Beiping, 50 fen, 50*30mm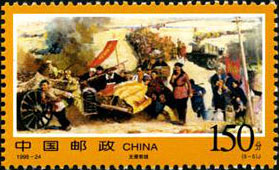 (5-5), Supporting the Forefront, 150 fen, 50*30mm
Technical details
Scott No: 2911-15
Serial number: 1998-24
Values in set: 5
Date of issue: November 14, 1998
Designers: Chen Xiaocong; Wei Chuyu;Ji Hongmin
Size of stamp: 50*30mm
Perforation: 12
Sheet composition: 40
Printing process: offset
Background
From autumn and winter of 1948 to early 1949, the People's Liberation Army launched strategic and decisive campaigns against the Kuomintang army in northeast, north and central China. The three major campaigns-Liaoshen, Pingjin and Huaihai campaigns-liberated a large area and some important cities, wiped out effective strength of Kuomintang army and shook the military base of Kuomintang's rule. The nationwide victory of the Chinese People's Revolutionary War had been basically ensured. The victory had also laid a foundation for the founding of New China.
The Party Central Committee headed by Mao Zedong, chairman of the Central Military Commission, made a correct assessment of the situation and commanded the battles and wiped out the enemy's effective strength by concentrating superior forces. The victory of the three major campaigns is the one of people's war. More than 10 million people participated in repairing bridges and roads, transporting materials and rescuing injured soldiers, thus making outstanding contributions to the victory.
The stamps featured the typical battles in conquering Jinzhou, decisive campaign at Huaihai and liberating Beiping as well as the Party Central Committee's wise decision making and the people's support. The stamps were issued to commemorate the hard struggle of the people's army and the people for the founding of the New China.
Share:

Price List
Item location: China
Ships to: Worldwide
*Shipping (via registered air mail) is based on subtotal of order. See detials below.
| | |
| --- | --- |
| Order Subtotal | S & H |
| $0.01---$15.00 | US $5.00 |
| $15.01---$50.00 | US $6.00 |
| $50.01---$100.00 | US $7.00 |
| $100.01---$180.00 | US $8.00 |
| $180.01---over | US $9.00 |
* 1) for special items shipping and handling cost may be included. 2) Other fast shipping is available.
To special order, please
let us know
what you are looking for. We will help you to meet your unique interests.