1998-30, Scott 2929-30 The 20th Anniversary of the Third Plenary Session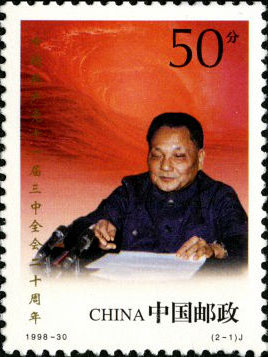 (2-1), Comrade Deng Xiaoping at the Third Plenary Session of the 11th Central Committee of CPC, 50 fen, 30*40mm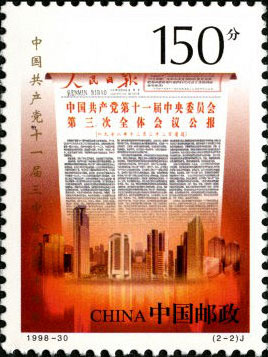 (2-2), Great Turn in History, 150 fen, 30*40mm
Technical details
Scott No: 2929-30
Serial number: 1998-30
Values in set: 2
Date of issue: December 18, 1998
Designers: Su Haiyi
Size: 30*40mm
Perforation: 12
Sheet composition: 50
Printing process: offset
Background
The year 1998 marked the 20th anniversary of the Third Plenary Session of the 11th Central Committee of CPC as well as China's reform and opening drive. The 20 years from 1978 to 1998 witnessed the fundamental changes in China. These two decades deserve to be recorded in letters of gold in the Chinese history.
During the 20 years, the Chinese people, guided by the Deng Xiaoping Theory, emancipating their mind and adhering to the principle of seeking truth from facts, achieved great achievements in reform and opening and socialist modernization construction through deserve to be recorded in letters of gold in the Chinese history.
During the 20 years China's social productivity has undergone rapid development; comprehensive national strength has been remarkably raised; the people's living standard has kept rising; New achievements have been reported in the national unification cause; and China's international position has been upgraded to a new high.
Recalling the past 20 years, the exciting events and historic milestones witnessed the footprints of the 1.2 billion Chinese people who overcame difficulties and marched towards new goals, they also demonstrated the Chinese Communists devoting to reviving the country and working hard for the benefit of the Chinese people. They have also displayed the power of the Deng Xiaoping Theory, which would lead China to a brighter future.
Summarizing the past is beneficial to facing the future. The Party's 15th Congress and the First Session of the Ninth National People's Congress sent a message to the world: The Chinese people are determined to uphold the great banner of the Deng Xiaoping Theory and continue to a pioneering spirit under the leadership of Party Central Committee with comrade Jiang Zemin at its core on the basis of summarizing the achievements and lessons, so as to write a new chapter in the 5,000-year Chinese civilization history and make new contributions to the mankind in the 21st century.
Share:

Price List
Item location: China
Ships to: Worldwide
*Shipping (via registered air mail) is based on subtotal of order. See detials below.
| | |
| --- | --- |
| Order Subtotal | S & H |
| $0.01---$15.00 | US $5.00 |
| $15.01---$50.00 | US $6.00 |
| $50.01---$100.00 | US $7.00 |
| $100.01---$180.00 | US $8.00 |
| $180.01---over | US $9.00 |
* 1) for special items shipping and handling cost may be included. 2) Other fast shipping is available.
To special order, please
let us know
what you are looking for. We will help you to meet your unique interests.