1998-29, Scott 2931 Seafloor World - Coral Reef Ornamental Fish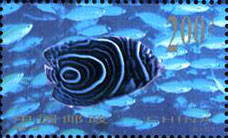 (8-1), Pomocanthus imperator, 200 fen, 50*30mm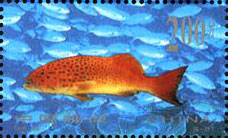 (8-2), Plectropomus maculatus, 200 fen, 50*30mm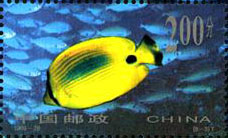 (8-3), Chaetodon plebeius, 200 fen, 50*30mm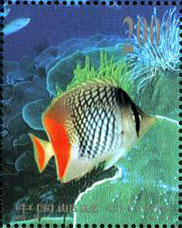 (8-4), Chaetodon chrysurus, 200 fen, 40*50mm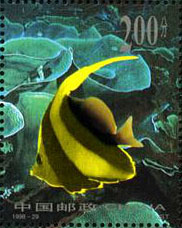 (8-5), Heniochus acuminatus, 200 fen, 40*50mm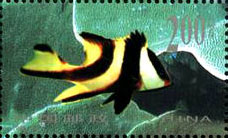 (8-6), Lutjanus sebae, 200 fen, 50*30mm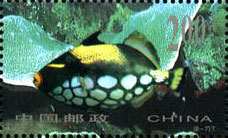 (8-7), Balistoides conspicillum, 200 fen, 50*30mm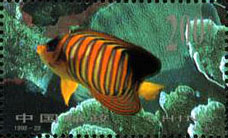 (8-8), Pygoplites diacanthus, 200 fen, 50*30mm
Technical details
Scott No: 2931
Serial number: 1998-29
Values in set: 8
Sheetlet: 1
Date of issue: December 22, 1998
Designers: Huang Li
Size of stamp:
40*50 mm for Value 4,5
50*30 mm for Value1,2,3,6,7,8
Size of Sheetlet: 190 * 150 mm
Perforation: 11.5
Printing process: gravure
Background
This set of stamps is the second sheetlet following the first issued in 1997 as "Huangshan Mountain" that raises money for the 22nd UPU Congress and the world stamp exhibition. In the centre of the sheetlet lies the emblem of the 22nd UPU Congress.
In the vast and clear South China Sea, there are many precious fishes and abundant seabed resources. The eight kinds of ornamental fishes portrayed in the stamps live only in the South China Sea. They are colourful and striped, like fairies, like soldiers, like graceful girls, like fluttering butterflies. The ornamental corals and the swimming fish form an extremely beautiful picture.
Share:

Price List
Item location: China
Ships to: Worldwide
*Shipping (via registered air mail) is based on subtotal of order. See detials below.
| | |
| --- | --- |
| Order Subtotal | S & H |
| $0.01---$15.00 | US $4.00 |
| $15.01---$60.00 | US $5.00 |
| $60.01---$100.00 | US $6.00 |
| $100.01---over | US $7.00 |
* 1) for special items shipping and handling cost may be included. 2) Other fast shipping is available.
To special order, please
let us know
what you are looking for. We will help you to meet your unique interests.