1998-12, Scott 2868-69 Emblem of 22nd Congress of Universal Postal Union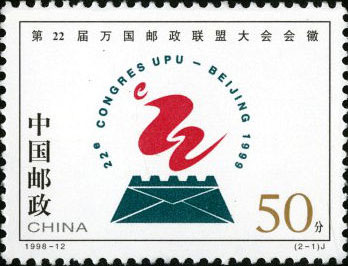 (2-1), Emblem of 22nd Congress of Universal Postal Union, 50 fen, 40*30mm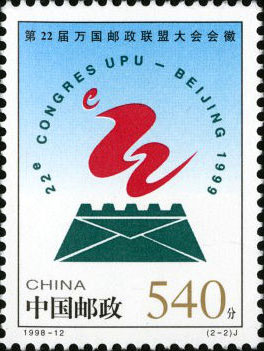 (2-2), Emblem of 22nd Congress of Universal Postal Union, 540 fen, 30*40mm
Technical details
Scott No: 2868-69
Serial number: 1998-12
Values in set: 2
Date of issue: May 15, 1998
Designers: Wang Huming; Huang Li
Size of stamp:
40*30mm for Value 1
30*40mm for Value 2
Perforation: 12
Sheet composition: 50
Printing process: offset
Background
Universal Postal Union, founded on October 9, 1874, is an inter-governmental international organization for deciding postal matters. In 1948, it became a specialized organization of the United Nations in charge of postal matters. Its head office is in Berne, Switzerland. To date, the Union has 189 member states. Congress of the Universal Postal Union, the highest organ of power of the Union, is usually held every five years. Its main task is to formulate and revise the regulations of the Union, research and draft the development strategy of world's stamps exhibitions and elect member states of the Union's executive council and operating council as well as the director and the deputy-director of the Unio's international Bureau. In August 1999, the 22nd Congress of Universal Postal Union will be held in Beijing. According to customary rule, the emblem of the congress is to be designed by the host country. The design of the emblem of the 22nd Congress is selected from more than 100 proposals. The emblem, bearing Chinese characteristics, is a green beacon tower of the Great Wall composed of a deformed envelop.
Share:

Price List
Item location: China
Ships to: Worldwide
*Shipping (via registered air mail) is based on subtotal of order. See detials below.
| | |
| --- | --- |
| Order Subtotal | S & H |
| $0.01---$15.00 | US $5.00 |
| $15.01---$50.00 | US $6.00 |
| $50.01---$100.00 | US $7.00 |
| $100.01---$180.00 | US $8.00 |
| $180.01---over | US $9.00 |
* 1) for special items shipping and handling cost may be included. 2) Other fast shipping is available.
To special order, please
let us know
what you are looking for. We will help you to meet your unique interests.