1998-13, Scott 2870-73 Shennongjia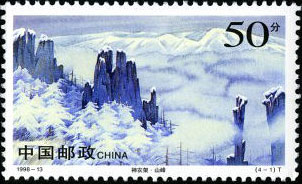 (4-1), Peak, 50 fen, 50*30mm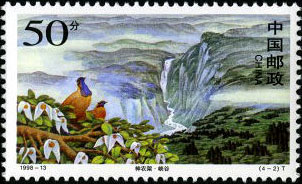 (4-2), Gorge, 50 fen, 50*30mm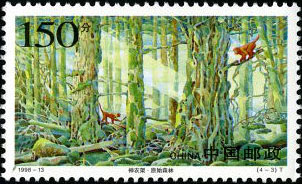 (4-3), Primitive Forest, 150 fen, 50*30mm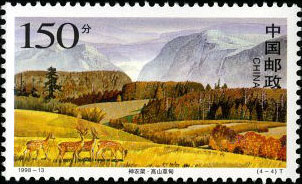 (4-4), Grassland on yhe Mountain, 150 fen, 50*30mm
Technical details
Scott No: 2870-73
Serial number: 1998-13
Values in set: 4
Date of issue: June 6, 1998
Designers: Xu Yongmin; Liu Shouxiang;
Wang Yong; Song Kejing
Size of stamp: 50*30mm
Perforation: 12.5
Sheet composition: 20
Printing process: offset
Background
A legend goes that Shennong, Emperor Yandi, once erected a hatch at a beautiful and mysterious place to gather medicinal herbs, and this place was later named Shennongjia.
Shennongjia consists of a group of mountains and hills in the western part of Hubei Province and between the Yangtze River and the Hanshui River. Shennongjia is famous for its high mountains. At Shennong Peak, the main peak, there is snow, storm, cloud and mist, as well as shooting stone forest and ground covered with mosses all year round, which constitute a perfect picture of primitive scenery. The mountain slope is divided into three levels: the lower level is the green bamboo belt, the middle level is the dark green fir belt, and the upper level is the bright azalea forest belt with bright and adorable flowers. Shennongjia is also famous for its gorges and valleys. The numerous gorges and valleys, with streams running at the bottom, form a flawless painting of the mountain and water. Shennongjia, with beautiful scenery, is also called a "green treasure house" and a "forest park". Here roam hundreds of rare, precious and strange animals, grow such trees as dove trees and bare firs in the primeval forest, under Grade 1 State Protection and also golden monkeys, deer and whitened animals such as white bears and white turtles. As a state-level forests and wildlife reservation, Shennongjia is called the "amiable home of man and the nature" with its unique mountains, rivers and valleys, abundant animal and plant resources as well as numerous mysterious natural phenomena.
Share:

Price List
Item location: China
Ships to: Worldwide
*Shipping (via registered air mail) is based on subtotal of order. See detials below.
| | |
| --- | --- |
| Order Subtotal | S & H |
| $0.01---$15.00 | US $5.00 |
| $15.01---$50.00 | US $6.00 |
| $50.01---$100.00 | US $7.00 |
| $100.01---$180.00 | US $8.00 |
| $180.01---over | US $9.00 |
* 1) for special items shipping and handling cost may be included. 2) Other fast shipping is available.
To special order, please
let us know
what you are looking for. We will help you to meet your unique interests.