1998-15, Scott 2880-2 He Xiangning's Chinese Paintings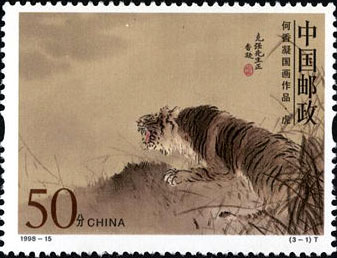 (3-1), Tiger, 50 fen, 50*38mm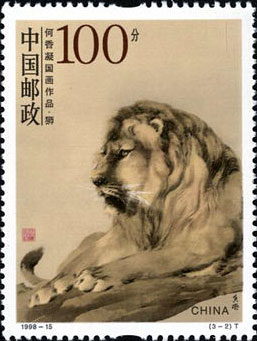 (3-2), Lion, 100 fen, 38*50mm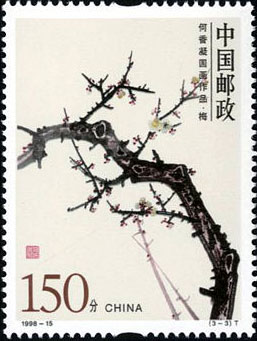 (3-3), Plum Blossom, 150 fen, 38*50mm
Technical details
Scott No: 2880-2
Serial number: 1998-15
Values in set: 3
Date of issue: June 27, 1998
Designers: Wang Huming; Yan Bingwu
Size of stamp:
50*38mm for Value 1
38*50mm for Value 2, 3
Perforation: 12.5
Sheet composition: 24
Printing process: gravure
Background
He Xiangning (1878-1972), a native of Nanhai, Guangdong Province, was born in Hong Kong. She was the wife of Liao Zhongkai, a senior statesman of the Kuomintang.
As a member of Tung Meng Hui, China's earliest revolutionary organization, He Xiangning was an outstanding revolutionary and political activist. Since the New China was founded, She had been appointed a member of the Central People's Government, chairman of the Revolutionary committee of the Chinese Kuomintang and chairman of the Chinese People's Political Consultative Conference. She was also one of the pioneers in China to study painting in Japan. She studied landscape and flower painting in Tokyo's Hongou Art School and learned to paint animals under the tutorship of imperial artist Raiaki Tanaka, achieving high artistic attainments. She was a voluminous painter. In addition to lion, tiger, pine, bamboo and chrysanthemum, she also painted large numbers of landscapes. Her words could well be the epitome of modern Chinese history, recording the constant Changes of events since the beginning of this century. Her lion and tiger paintings displayed the spirit of the Chinese people's ceaseless struggle to invigorate China, and were also the vivid portrayal of her 70-year revolutionary career and noble personality. Her paintings are indeed the treasure of the Chinese paintings gallery. On April 18, 1997, the He Xiangning Art Gallery was established in Shenzhen.
Share:

Price List
Item location: China
Ships to: Worldwide
*Shipping (via registered air mail) is based on subtotal of order. See detials below.
| | |
| --- | --- |
| Order Subtotal | S & H |
| $0.01---$15.00 | US $5.00 |
| $15.01---$50.00 | US $6.00 |
| $50.01---$100.00 | US $7.00 |
| $100.01---$180.00 | US $8.00 |
| $180.01---over | US $9.00 |
* 1) for special items shipping and handling cost may be included. 2) Other fast shipping is available.
To special order, please
let us know
what you are looking for. We will help you to meet your unique interests.