T107, Scott 2019 Bing-Yin Year (1986 Year of the Tiger)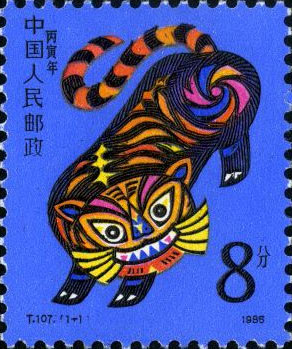 (1-1), Bing-Yin Year (Year of the Tiger), 8 fen, 26*31 mm
Technical details
Scott No: 2019
Serial number: T107
Values in set: 1
Date of issue: January 5, 1986
Denomination: 8 fen
Designers: Zhang Guofan
Engraver: Hu Zhengyuan
Size of stamps: 26*31mm
Perforation: 11.5
Sheet composition: 80(10*8)
Printing process: Engraving and photogravure
Printing House: Beijing Postage Stamp Printing Works
Background
1986 is the Year of the Tiger in the Chinese lunar calendar. The heavenly stems and earthly branches were the traditional Chinese method for numbering the years. The tiger is the third of the third of the 12 zodiac animals. In popular China, the tiger has always been considered the king of all beasts, a sign of might, strength the households. In Licheng of Shanxi Province, there is a legend about a tiger taming a mountain monster: The mountain monster, manipulating a drove of poisonous snakes, insects and scorpions, did harm to the local residents. When a deity came, he offered elixirs of life to detoxify the locals. Prior to his departure, he presented a "divine gift"-a gold tiger-to the locals. Safety had been guaranteed for the households and people of Licheng ever since. Later, locals began to sew cloth tigers of various descriptions, and children began to wear tiger-head shoes and tiger-head caps. This practice has been passed down to the present and has evolved into a local tradition.
Share:

Price List
Item location: China
Ships to: Worldwide
*Shipping (via registered air mail) is based on subtotal of order. See detials below.
| | |
| --- | --- |
| Order Subtotal | S & H |
| $0.01---$15.00 | US $5.00 |
| $15.01---$50.00 | US $6.00 |
| $50.01---$100.00 | US $7.00 |
| $100.01---$180.00 | US $8.00 |
| $180.01---over | US $9.00 |
* 1) for special items shipping and handling cost may be included. 2) Other fast shipping is available.
To special order, please
let us know
what you are looking for. We will help you to meet your unique interests.