J126, Scott 2030-31 90th Anniv. of Birth of Comrade He Long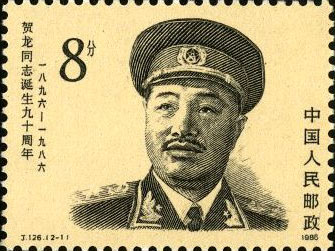 (2-1), Portrait of He Long, 8 fen, 40*30 mm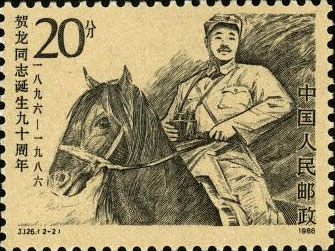 (2-2), Comrade He Long in the war field, 28 fen, 40*30 mm
Technical details
Scott No: 2030-31
Serial number: J126
Values in set: 2
Date of issue: March 22, 1986
Denomination: 28 fen
Designers: Yang Lizhou, Wang Yingchun
Engraver: Sun Hongnian, Hu Zhengyuan
Size of stamps: 40*30mm
Perforation: 11*11.5
Sheet composition: 50(5*10)
Printing process: Engraving and photogravure
Printing House: Beijing Postage Stamp Printing Works
Background
He Long(1896-1969)was born in SangZhi, first named WenChang, Yun qing. In 1914, he joined the Chinese Revolutionary Party. He had ever been appointed the battalion commander of XiangXi National guard Army brigade commander of the mixed chuan brigade, divisional commander. garrison envoy etc. In 1926, He joined the Northern Expedition and was promoted to be the army commanded of the twentieth National Revolutionary Army. In 1927, he joined and led the NanChang uprising as a chief commander. In the same year in Sept. He joined the Chinese Communist Party. During the Agrarian Revolutionary War, he successively held the posts of the Fourth Red Army commander, the Xiangerxi front committee secretary of the Chinese Communist Party, chief commander of the second Red Army Group, Chief commander of the second & sixth Red Army group and commander of the Xianger Chuang Qian military area. During the War of Resistance Against Japan, he served successively as divisional commander of the Eighth Route Army 120 division, commander of JinShui military area, commander of the Shan Gan Ning. Jin Shui united defense army. During the War of liberation, he was appointed the commander of the JinShui military area & JinShui field army, the second secretary of the Northwest Bureau of the Central Committee of the Communist Party of China. After the People's Republic of China was founded, he was appointed to be the commander of the Southwest military area, the third secretary of the Southwest Bureau of the central committee of the Chinese Communist Party, vice president of the people's revolutionary military committee, vice president of the National Defense Committee, vice Premier of the State Council and head of the physical committee, vice chairman of the central military Commission and head of the national defense industrial committee. In 1955 he was awarded the military rankle of the Field Marshal. He was selected the seventh. eighth member of the Chinese Communist Party. member of the Central Polictial Committee. He died of the political persecution in the Great Culture Revolution". In 1978 his grievance was redressed.
Share:

Price List
Item location: China
Ships to: Worldwide
*Shipping (via registered air mail) is based on subtotal of order. See detials below.
| | |
| --- | --- |
| Order Subtotal | S & H |
| $0.01---$15.00 | US $5.00 |
| $15.01---$50.00 | US $6.00 |
| $50.01---$100.00 | US $7.00 |
| $100.01---$180.00 | US $8.00 |
| $180.01---over | US $9.00 |
* 1) for special items shipping and handling cost may be included. 2) Other fast shipping is available.
To special order, please
let us know
what you are looking for. We will help you to meet your unique interests.