J129, Scott 2040-41 90th Anniv. of Birth Of Mao Dun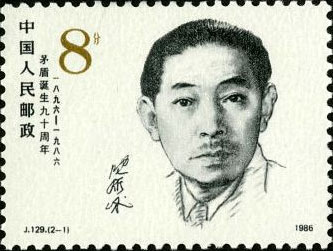 (2-1), Portrait of Mao Dun, 8 fen, 40*30 mm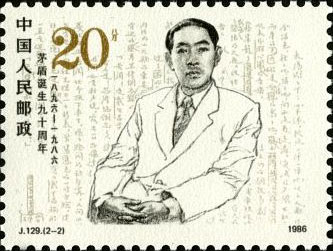 (2-2), Mao Dun and his script of Ziye, 20 fen, 40*30 mm
Technical details
Scott No: 2040-41
Serial number: J129
Values in set: 2
Date of issue: July 4, 1986
Denomination: 28 fen
Designers: Wu Changjiang
Size of stamps: 40*30mm
Perforation: 11*11.5
Sheet composition: 50(5*10)
Printing House: Beijing Postage Stamp Printing Works
Background
Literary innovation in modern China has been closely linked with the awakening of the Chinese nation epitomized in the May 4th Movement of 1919, which put an end to the dominance of classical language and tradition and heralded the advent of modernism. Modern literature was thus the product of a growing ideological awareness of modern ideas about democracy, socialism and the role of literature itself. The corruption permeating society and the danger the nation faced, as well as the revolutionary fervor to which these gave rise and which had its own roots in the May 4th Movement too, occupied the attention of the majority of writers, who consciously or unconsciously joined the revolutionary struggle by taking up their pens to analyze social reality. It was against this socio-historical background that the revolution began to influence literature directly and profoundly and determine the direction in which it would develop, conferring on it a historical character foreign to its precursors. Mao Dun, a versatile talent, was active during this process.
Mao Dun, whose real name was Shen Yanbing, used this pen-name when he began writing in the late 1920s. He was well known both nationally and internationally as a writer, but was at the same time a social activist. One of the earliest members of the Chinese Communist Party, he began revolutionary work in the mid-1920s and continued to take an active part in social and political struggle throughout his life. But it was literature which he made his career, one in which he achieved splendid things. National liberation and social progress were the constant goal of his writing. In him were combined the social activist and the man of letters, the writer and the revolutionary. It is nonetheless in the establishment and development of modern Chinese literature that his contributions were greatest and where his far-reaching influence can be felt today even after his death. He was truly one of the great men of modern Chinese literature.
Share:

Price List
Item location: China
Ships to: Worldwide
*Shipping (via registered air mail) is based on subtotal of order. See detials below.
| | |
| --- | --- |
| Order Subtotal | S & H |
| $0.01---$15.00 | US $5.00 |
| $15.01---$50.00 | US $6.00 |
| $50.01---$100.00 | US $7.00 |
| $100.01---$180.00 | US $8.00 |
| $180.01---over | US $9.00 |
* 1) for special items shipping and handling cost may be included. 2) Other fast shipping is available.
To special order, please
let us know
what you are looking for. We will help you to meet your unique interests.