J134, Scott 2068-69 Centenary of Birth of Zhu De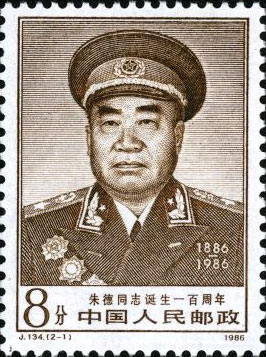 (2-1), Portrait of Marshal Zhu De, 8 fen, 30*40 mm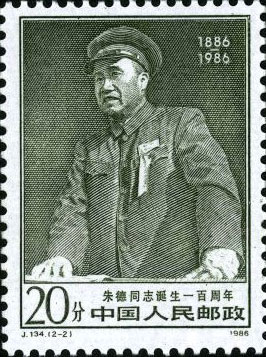 (2-2), Speech at then Army Day in 1950, 20 fen, 30*40 mm
Technical details
Scott No: 2068-69
Serial number: J134
Values in set: 2
Date of issue: December 1, 1986
Denomination: 28 fen
Designers: Hu Zhengyuan
Engraver: Hu Zhengyuan, Gao Pinzhang
Size of stamps: 30*40mm
Perforation: 11.5*11
Sheet composition: 50(10*5)
Printing process: Engraving and photogravure
Printing House: Beijing Postage Stamp Printing Works
Background
Zhu De was born December 18, 1886, in Sichuan Province. Zhu De came from a poor family in which only eight of fifteen children survived. He was the "Grand Old Man" of the Red Army. He was Mao's closest ally. He was the Commander in Chief during the Long March.
After studying in Germany, he met Zhou Enlai and soon became a Communist leader. In 1923, he was the nationalist Chief of Public Security in Nanchang and of the KMT officers training corps. It was still a secret that he was a Communist Party member. He was always a strong supporter of Mao and the Zunyi Conference that decided the leadership of the Communist Party and the Red Army. The trio of Bo Gu, Otto Braun, and Zhou Enlai had been the leaders at the beginning of the Long March. But after disastrous defeats at the Xiang River crossing and the general direction of the Red Army, distrust was springing up against the strategy of the leaders. The Zunyi Conference and Mao's success set the course of China's affairs for the next 50 years.
Zhu was in the First Top Command during the Long March. Zhang Guotao and Zhang's Fourth Route Army for held him virtual prisoner over a year. Zhang tried to take over the leadership of the Red Army and the Chinese Communist Party. Zhu then escaped to join the Red Army. Zhu was the Commander in Chief of the 8th Route Army during the Sino-Japanese war and later of the PLA (People's Liberation Army.) At the founding ceremony of the People's Republic of China on October 1st, 1949, as the Commander in Chief of the People's Liberation Army, he was on the reviewing stand next to Chairman Mao.
In 1967, during the Cultural Revolution, a poster named Zhu De a "Big Warlord" and a "Black General." Zhou Enlai helped to save him until he died on July 7, 1976.
Share:

Price List
Item location: China
Ships to: Worldwide
*Shipping (via registered air mail) is based on subtotal of order. See detials below.
| | |
| --- | --- |
| Order Subtotal | S & H |
| $0.01---$15.00 | US $5.00 |
| $15.01---$50.00 | US $6.00 |
| $50.01---$100.00 | US $7.00 |
| $100.01---$180.00 | US $8.00 |
| $180.01---over | US $9.00 |
* 1) for special items shipping and handling cost may be included. 2) Other fast shipping is available.
To special order, please
let us know
what you are looking for. We will help you to meet your unique interests.