1997-16, Scott 2805 Huangshan Mountains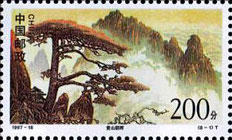 (8-1), Mount Huangshan at Sunrise, 200 fen, 50*30mm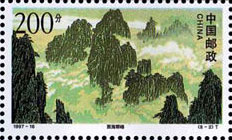 (8-2), Xihai Peaks, 200 fen, 50*30mm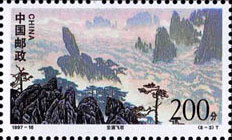 (8-3), Flying Rock on Gushing Clouds, 200 fen, 50*30mm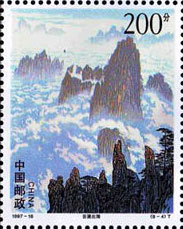 (8-4), Beihai in Drifting Clouds, 200 fen, 40*50mm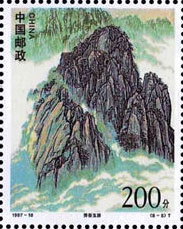 (8-5), Yuping Peak, 200 fen, 40*50mm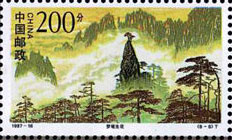 (8-6), Mystical Stone, 200 fen, 50*30mm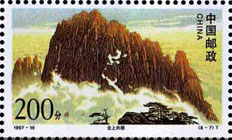 (8-7), Tiandu Peak over Clouds, 200 fen, 50*30mm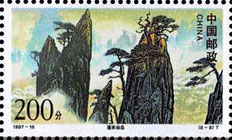 (8-8), A Fabled Abode of Immortals, 200 fen, 50*30mm
Technical details
Scott No: 2805
Serial number: 1997-16
Values in set: 8
Date of issue: October 20,1997
Designers: Shi Sougling
Size:
50*30mm for Value 1,2,3,6,7,8
40*50mm for Value 4,5
Size of sheetlet: 190 * 150 mm
Perforation: 11.5
Sheet composition: 8
Printing process: gravure
Background
Mt. Huangshan is located in the southern part of Anhui Province at the juncture of Shexian, Yixian, Taiping and Xiuning counties. It was called Mt. Yishan or Mt. Beiyishan in ancient times. A fable goes that Emperor Huangdi once lived here to cultivate personality and to concoct pills of immortality, it was therefore named Mt. Huangshan in the sixth year of Emperor Tianbao of the Tang Dynasty.
Mt. Huangshan seems to possess the best features of other famous mountains - the grandeur of Mt. Taishan, the elegance of the Wuyi Mountains, the steepness of Mt. Huashan and the magnificence of Mt. Hengshan. And Mt. Huangshan also has scenic spots which can match up to the heavenly waterfalls of Mt. Lushan, the endless peaks of Mt. Emei and the picturesque rocks of the Yandang Mountains. The ancient people had a saying that "all famous natural sceneries under the heaven are right here in Mt. Huangshan". Xu Xiake, a renowned traveller of the Ming Dynasty, wrote in his "Travel Notes on Mt. Huangshan: "After scaling Mt. Huangshan, one will no longer have the desire to climb other mountains, and travel will come to an end."
The scenic zones of Mt. Huangshan covers an area of about 154 square kilometres, including 72 peaks such as the Lianhua Feng (Lotus Flower Peak), 24 brooks such as the Taohua Xi (Peach Flower Brook), 12 caves and eight rocks. People often summarize the beautiful scenery of Mt. Huangshan into "four unique features" - legendary pine trees, strange-shaped rocks, sea of clouds and hot springs.
Pine trees on Mt. Huangshan grow coniferous and thick yet short leaves, curved trunks and coiled branches, their tops are flat, and they are luxuriantly green. The Guest-welcoming Pine in front of the Yuping (Jade Screen) Tower and the Phoenix Pine in front of the Haixin Pavilion are the most well known. Vivid they are, some rocks on Mt. Huangshan look like humans while some others are in the shape of particular objects, such as the "Golden Rooster Crowing at the Gate to Heaven" in front of the Banshan Temple and "An Immortal Dries Booth" in the Xihai. Intangible and changing, there are seas of clouds all the year round at Mt. Huangshan. Sometimes they are under the morning shine, and sometimes they are changing rapidly. The mountain and natural scenery give a sense of misty and changing beauty to visitors. Hot springs at Mt. Huangshan are also called "broiling springs" because water temperature remains a constant 42 degrees centigrade all the year round. Water is crystal and sweet, suitable both for bathing and drinking.
"Spring comes in April and there is no winter in the year." Mt. Huangshan, with ideal climate, beautiful and imposing scenery, is worth climbing. Mt. Huangshan is one of the most famous scenic spots in China, and is also a well known tourist attraction in the world.
The stamps on Mt. Huangshan were issued to celebrate the convening of the 22nd Congress of the International Postal Union and the 1999 China International Philatelic Exhibition.
Share:

Price List
Item location: China
Ships to: Worldwide
*Shipping (via registered air mail) is based on subtotal of order. See detials below.
| | |
| --- | --- |
| Order Subtotal | S & H |
| $0.01---$15.00 | US $5.00 |
| $15.01---$50.00 | US $6.00 |
| $50.01---$100.00 | US $7.00 |
| $100.01---$180.00 | US $8.00 |
| $180.01---over | US $9.00 |
* 1) for special items shipping and handling cost may be included. 2) Other fast shipping is available.
To special order, please
let us know
what you are looking for. We will help you to meet your unique interests.