1995-10, Scott 2575-78 Interchanges in Beijing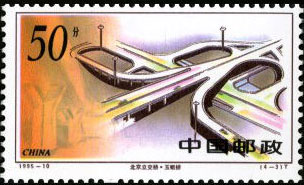 (4-3), Yuting Flyover, 50 fen, 52*31mm
Technical details
Scott No: 2575-78
Serial number: 1995-10
Values in set: 4
Date of issue: June 20, 1995
Designers: Yan Bingwu; Hu Zhenyuan
Size: 52*31mm
Perforation: 11.5
Sheet composition: 40
Printing process: gravure
Background
Interchanges are multi-layer flyovers that have been built over the past several decades. With interchanges. Vehicles and pedestrians from all directions can cross each other by their own way without waiting for traffic light.
Interchanges generally fall into two categories, the simple flyovers and complicated interchanges. The former can only ensure the cross of vehicle at both the upper and lower layers, while the latter can guarantee the cross of vehicles at various layers and thus need more slip roads and occupy more land.
Interchanges have been developing rapidly over the past several decades since they can prevent vehicles from reducing speed and starting again at crossings and bring about considerable social-economic gains. China started to vigorously develop interchanges in mid-1970s. The first interchange in Beijing is the Fuxingmen Interchange which was built in 1974. Today, there are several hundreds of interchanges along the second, third and fourth ring roads of the city. In terms of architectural structure, the interchanges, with two to four layers, include simply flyovers and those in the shape of cloverleaf and butterfly, with H-and Y-type and single-column bridge piers.
At present, the largest interchange in China is the Siyuan Interchange in Beijing. It is a four-layer large interchange composed of 26 bridges, with the span between the single-column bridge piers being the largest in interchanges of the country. The bridges of the Siyuan Interchange, which covers 400,000 square meters of land, have a total length of 2.8 kilometers and a total area of 40,000 square meters.
Share:

Price List
Item location: China
Ships to: Worldwide
*Shipping (via registered air mail) is based on subtotal of order. See detials below.
| | |
| --- | --- |
| Order Subtotal | S & H |
| $0.01---$15.00 | US $5.00 |
| $15.01---$50.00 | US $6.00 |
| $50.01---$100.00 | US $7.00 |
| $100.01---$180.00 | US $8.00 |
| $180.01---over | US $9.00 |
* 1) for special items shipping and handling cost may be included. 2) Other fast shipping is available.
To special order, please
let us know
what you are looking for. We will help you to meet your unique interests.