T162, Scott 2330-38 Azalea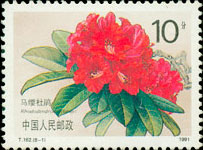 (8-1), Horse Hair Azalea, 10 fen, 40*30 mm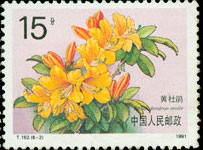 (8-2), Yellow azalea, 14 fen, 40*30 mm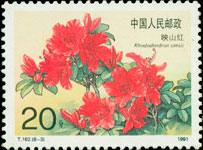 (8-3), Yingshanhong, 20 fen, 40*30 mm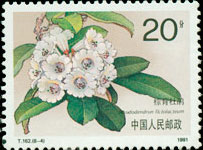 (8-4), Zongbei Azalea, 20 fen, 40*30 mm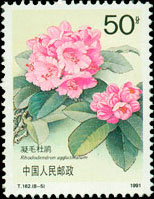 (8-5), Glistening Hair Azalea, 50 fen, 30*40 mm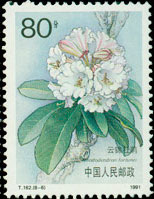 (8-6), Cloud Azalea, 80 fen, 30*40 mm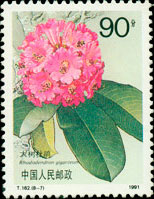 (8-7), Big Tree azalea, 90 fen, 30*40 mm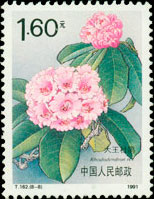 (8-8), Great Lord Azalea, 160 fen, 30*40 mm
Technical details
Scott No: 2330-38
Serial number: T162
Values in set: 8
Denomination: 445 fen
Date of issue: June 25, 1991
Designer: Zeng Xiaolian
Size of stamps:
40*30 mm for Values 1, 2, 3, 4
30*40 mm for Values 5, 6, 7, 8
Size of S/S stamp: 80*40mm
Size of S/S: 135*90mm
Perforation: 12
Sheet composition: 50 (10*5)
Printing process: offset
Printing House: Beijing Postage Stamp Printing Works
Background
Azaleam, its Latin name: Rhododendron simsii & R. Spp. It is also known as "Shining Mountains Red", "Mountain Granada", etc. The azalea belongs the Rhododendro genus of the Ericaceae family. In different natural environments, the azalea varies in shapes and sizes. Some varieties are evergreen megaphanerophyte, some evergreen dungarungam some evergreen shrubs and other deciduous shrubs. Some varieties have big trunksm being over 20 meters in height. Some are adnascent or creepers, being only 10 to 20 centimeters in height. There are 900 odd varieties, 850 are fond in Asia. And 530 varieties are found growing in profusion in China, making up 59% of the total . They are distributed mainly over the areas of the Hengduan Mountain Ranges are the center of the originating and growing places of the azalea in the world. Among all the ornamental flowers and plants, it is the azalea that not only has top-quality flowers and leaves, suits for potting and ground planting, but also is widely used. The great poet of the Tang Dynasty, Bai Juyi, wrotea poem in praise of the azalea, which reads: "Holding sprays of azalea blossoms in my bands, I almost doubt they are from the Heaven, in respect of medicinal use, the azalea may be likened to Xishi (One of the most charming ladies in Chinese history), lotus and peony are just like old ugly ladies." China is a giant treasure-storage of azalea resources with the most varieties and greatest number of azalea in the wold.
Share:

Price List
Item location: China
Ships to: Worldwide
*Shipping (via registered air mail) is based on subtotal of order. See detials below.
| | |
| --- | --- |
| Order Subtotal | S & H |
| $0.01---$15.00 | US $5.00 |
| $15.01---$50.00 | US $6.00 |
| $50.01---$100.00 | US $7.00 |
| $100.01---$180.00 | US $8.00 |
| $180.01---over | US $9.00 |
* 1) for special items shipping and handling cost may be included. 2) Other fast shipping is available.
To special order, please
let us know
what you are looking for. We will help you to meet your unique interests.