T124, Scott 2131 Wuchen Year (1988 Year of the Dragon)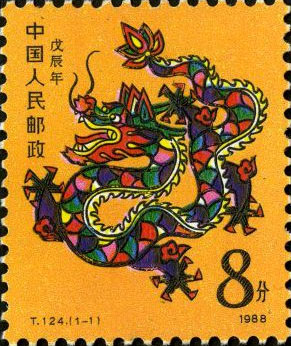 (1-1), Wuchen Year(Year of Dragon), 8 fen, 26*31 mm
Technical details
Scott No: 2131
Serial number: T124
Values in set: 1
Date of issue: January 5, 1988
Denomination: 8 fen
Designers: Zu Tianli
Engraver: Qun Feng
Size of stamps: 26*31mm
Perforation: 11.5
Sheet composition: 80(10*8)
Printing process: Engraving and photogravure
Printing House: Beijing Postage Stamp Printing Works
Background
The year 1988 is the Year of Wu-Chen according to the Heavenly Stems and Earthly Branches or the Year of Dragon for the ordinary people. The dragon represents the most sacred animal in Chinese folk culture and is a lovely animal created by the ancient Chinese people long ago to symbolize power and strength. According to a lengend the dragon originated from the clan society in remote antiquity and its history goes back several thousand years. As society has progressed pepole have constantly enriched the image and culture of the dragon. The Chinese people depcit the dragon in embroidery, carvings and painting and the dragon crops up in folk tales,songs and writing.
Share:

Price List
Item location: China
Ships to: Worldwide
*Shipping (via registered air mail) is based on subtotal of order. See detials below.
| | |
| --- | --- |
| Order Subtotal | S & H |
| $0.01---$15.00 | US $4.00 |
| $15.01---$60.00 | US $5.00 |
| $60.01---$100.00 | US $6.00 |
| $100.01---over | US $7.00 |
* 1) for special items shipping and handling cost may be included. 2) Other fast shipping is available.
To special order, please
let us know
what you are looking for. We will help you to meet your unique interests.