J115, Scott 1998-99 200th Anniv. of Birth of Lin Zexu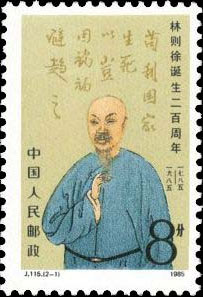 (2-1), Portrait of Lin Zexu, 8 fen, 27*40 mm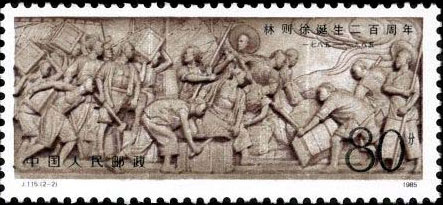 (2-2), Destroying Opium in Humen, 80 fen, 60*27 mm
Technical details
Scott No: 1998-99
Serial number: T114
Values in set: 2
Date of issue: August 30, 1985
Denomination: 88 fen
Designers: Ren Yu
Size of stamps:
27*40mm for Value 1;
60*27mm for Value 2
Perforation: 11
Sheet composition:
56 (8*7) for Value 1;
40 (5*8) for Value 2
Printing process: Photogravure
Printing House: Beijing Postage Stamp Printing Works
Background
Lin Zexu or Lin Tse-hs¨¹ born Aug. 30, 1785, Houguan, Fujian province, China died Nov. 22, 1850, Chaozhu, Guangdong province
Leading Chinese scholar and official of the Qing dynasty, accepted as a national hero for his stance against the British before the Anglo-Chinese Opium War (1839¨C42).
Lin passed the highest examination in the Chinese examination system and entered the Hanlin Academy and government. Having suggested to the emperor ways to suppress the opium trade, Lin found himself appointed imperial commissioner and dispatched to Guangzhou (Canton) to deal with the problem directly. He was so successful that, in retaliation for his destruction of their opium stocks, the British ravaged large parts of southern China, and Lin was quickly dismissed. He served loyally at his post of exile and was soon called back to important service. He died on his way to help suppress the Taiping Rebellion.
Share:

Price List
Item location: China
Ships to: Worldwide
*Shipping (via registered air mail) is based on subtotal of order. See detials below.
| | |
| --- | --- |
| Order Subtotal | S & H |
| $0.01---$15.00 | US $5.00 |
| $15.01---$50.00 | US $6.00 |
| $50.01---$100.00 | US $7.00 |
| $100.01---$180.00 | US $8.00 |
| $180.01---over | US $9.00 |
* 1) for special items shipping and handling cost may be included. 2) Other fast shipping is available.
To special order, please
let us know
what you are looking for. We will help you to meet your unique interests.